Foundation to assist adolescents transition to adulthood launched on Nevis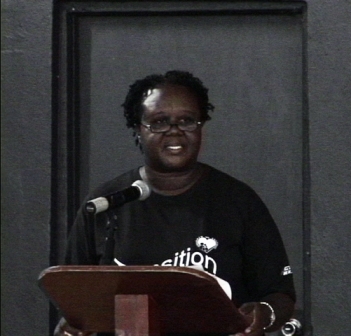 Chief Executive Officer of the Children Are Precious Foundation Ms. Andrea Bussue
CHARLESTOWN NEVIS (July 08, 2010) — Chief Executive Officer of the Children Are Precious Foundation Ms. Andrea Bussue described the entity as an innovative transition which bridged the challenges of adolescence. She said her vision was designed to assist for primary school leavers entry into secondary school.
Miss Bussue made the comment while she addressed the official launch of the Foundation on Thursday at the Cultural Centre, under the theme Transition: "Bridging the challenges of adolescence".
According to Ms. Bussue, the mission of the programme was to help students successfully transition from adolescence to adulthood through career guidance, mentoring, and community resources.
"The foundation had a vision to serve as a resource centre for adolescents, parents, teachers and others community partners, in order to facilitate a seamless support system for all students from middle childhood to adulthood," she said.
The Children Are Precious Foundation became a non-profit organization, 15 months ago due to the influence of identical twins Ashimo and Akimo Freeman, students of the Special Education Unit, whose struggles as students caught the attention of Ms. Bussue. She said she became motivated to form an organisation that would reach other struggling adolescences in the island of Nevis.
Ms. Bussue stated, however, that Transition would not serve as a substitute for parents and guardians but instead to help them, to compliment the school programme, to provide direction, support and opportunities for development.
Participating schools in the pilot programme include the Joycelyn Liburd Primary School, the Elizabeth Pemberton Primary School, the VOJN Primary School and the St. James Primary School.
The first Children Are Precious student workshop is slated for September 2nd, 2010. It will focus on time management, study and note taking skills.
Miss Bussue also noted that future, parent workshops will be organised when additional sponsorship funds become available for other schools who will be able to join Children Are Precious Organisation.