Four Seasons Resort continues to support Nevis community despite closure, says GM Humphries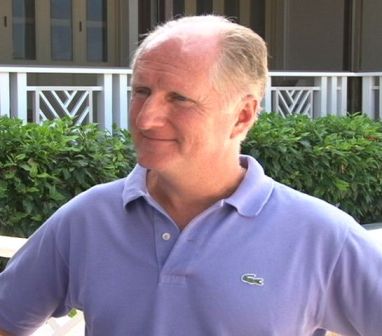 General Manager of the Four Seasons Resort, Nevis Mr. Andrew Humphries
CHARLESTOWN NEVIS (February 09, 2010) — Physical reconstruction of the Four Seasons Resort has reached its final stages and General Manager of the Four Seasons Resort, Nevis Mr. Andrew Humphries says though they were forced to release hundreds of staff members during its closure, several remained employed.
Mr. Humphries addressed the matter of continued employment and the hotel's continued contribution to Nevis in an interview with the Department of Information on Monday.
"During the closure we had a lot of our staff employed on the construction which was great we still employed well over 250 staff on the site in various forms mainly taking care of our Villa Operation. That's continued throughout the closure uninterrupted and we have upwards of 65 villas to take care of for our home owners.
"So there is a large number of people employed in there and also in things like site security. We have maintained many of our managers in jobs that are not their typical jobs but we managed to keep them employed and we will continue that throughout the closure," he said.
With regard to employment of foreign labour Mr. Humphries said the majority of them had completed their tasks and had left Nevis prior to Christmas. However, there were a few skilled workers on the project.
"We lost 100 rooms and all of our infrastructure on the lower floor of the Great House. That is predominantly done…There are still a few skill trades remaining in the hotel and they are really finishing off the rooms. The last fine details bits in the rooms and the public areas and some of our more technical work on things like electrical panels etc.," he said.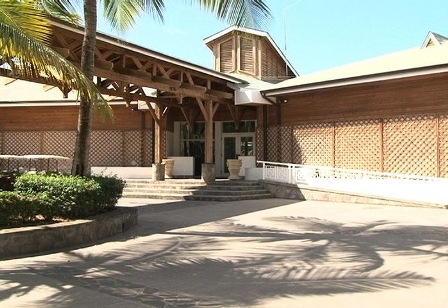 Entrance to the Great House during ongoing reconstruction work at the Four Seasons Resort
However, though he declined to give an expected reopening date, the General Manager said as physical construction works neared the end, the Hotel would then move to a pre opening phase to make ready for an opening.
"We don't have a date yet. As you may know we had a meeting here last week with the bank who is currently controlling the loan to the property and we hope to get some further clarity from them on their funding plans by the end of the month," he said.
Meantime, Mr. Humphries said apart from offering employment to a reduced number of Nevisians, the Hotel though closed continued to contribute as much as it could to the community.
In the area of environment, he pointed to the ongoing turtle project.
"The way we have set that up is even though we are not able to support turtle tagging this year, that constantly throughout the year every time someone logs on to the website and has sponsored a turtle.
"Many of our guests have sponsored a turtle they continue to donate every time one of the turtles comes up on the website that they are tracking. So money continues to flow there from our guests," he said.
The Hotel also continued to contribute to sports in particular youth cricket.
"We also continue to be supporting sport and cricket in particular. We have supported the Under 13 side extensively over the last couple of years and I couldn't think of a more worthwhile cause actually. It's something that really gives the young lads a focus and I have to say they have been doing incredibly well. We are all very proud of how well they have done in the various competitions.
"I have to say as well it's down really to some great coaches who have given up a lot of their time over the last couple of years to support that. We have bought them their equipment and continue to sponsor them," he said.
Outside of those ongoing projects Mr. Humphries said there were a few other little things that Four Seasons was trying to do but it was not easy to find the extra money because of the closure but once the hotel moved back to an open operation they would certainly continue to support Nevis as it had done in the past.