Four Seasons Resort Home Owners donate three vehicles to Nevis Police Division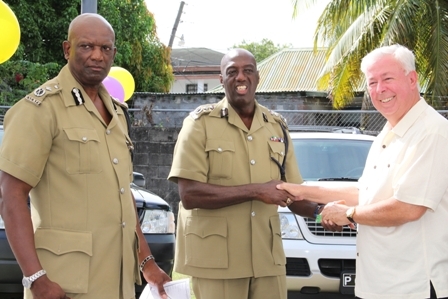 NIA CHARLESTOWN NEVIS (May 08, 2012) — The Nevis Division of the Royal St. Christopher and Nevis Police Force received three vehicles from the Four Seasons Homeowners Foundation on Friday May 04, 2012, to revamp its dying fleet.
Commissioner of Police Celvin G. Walwyn who accepted the keys from Home Owner Mr. Denis Higginbotham for three Ford Explorer jeeps at the Charlestown Police Station, thanked the homeowners and Four Seasons Resort Nevis for their generous contribution to the Police Force.
He also used the occasion to thank the citizens of Nevis for their support and the men and women who provide security services for Nevis. He urged the Officers assigned to driving the vehicles exercise caution.
"I want to tell the Officers that are going to be driving these vehicles: This is real estate that you cannot buy for the private sector to offer you vehicles to help in your every day duties it's a sign that they have faith in you and they have trust in you. It is up to you now when you start driving these vehicles to take care of them as if they are your own.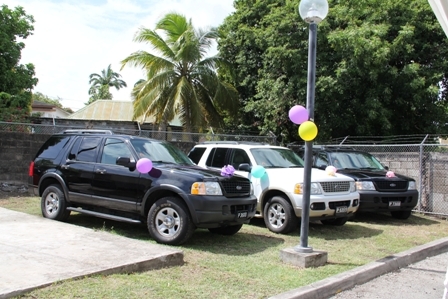 I know sometimes we should never say that because I have seen some people's vehicles but please take care of these vehicles. I use to drive the white one in Orlando, so I know what it can do. Those of you who will be driving that car there are times you are going to feel like a champion and you want to speed because vehicle will run. Don't do it," he said.
The Commissioner reminded the Officers that they were examples on the streets and if they violated the law they would not be respected by members of the public who would not uphold the law either.
Commissioner Walwyn noted that although the Four Season Resort had given the undertaking to maintain the three vehicles, the senior officers who supervised those assigned to drive them would ensure that a daily activity report was produced which indicated that the fluids in the vehicles were checked.
"I know we are tempted at times to get in and start the key because it is not ours but it is yours and it is ours, all of us who live in this Federation. When these vehicles go down because you don't take the time to check the fluids it hurts everybody. The Inspector [Mills] said awhile ago, response time should be better [but] it won't be if you don't take care of these vehicles.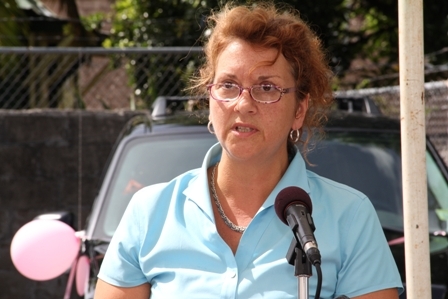 "So I am asking those of you who will be driving these vehicles, asking the supervisors from the ACP down to ensure that these vehicles are well taken care of, that we don't park them and hit them on the side of the road, that we don't drive them into the ditches and then say somebody hit us and took off. We want to make sure that we take care of these vehicles because just the fact that you are being given these vehicles says a lot coming from the community," he said.
In conclusion, Mr. Walwyn thanked the Four Season Resort and the home owners and stated: "The Police Force thanks you. It is vehicles that we needed, you came up you delivered and we appreciate it and we will do our best to make sure they would be used for the purpose they were given."
Meantime, Four Seasons Resort Director of Residents Ms. Karen Davella in brief remarks explained that the Resort along with the private donations from their home owners saw it as an opportunity to support the police in the island's crucial efforts to bring crime under control and they were proud to take part.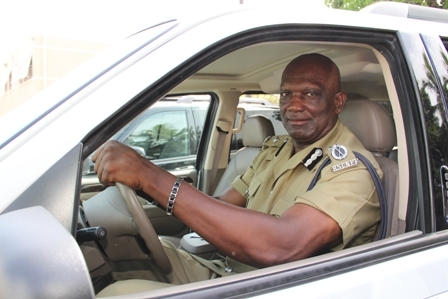 "The Four Seasons Resort in addition to the Home Owners Foundation's generous donation of the vehicles has extended the offer to maintain these vehicles and to continue with basic maintenance on these vehicles during their use by the Force to keep them commissionable and in good use for the whole community," she said.
According to Ms. Davella, the Foundation was established in 2003 and had since worked on various projects over the years to provide direct benefits to the citizens of Nevis in projects which involved health, education and community.
She also praised the crime fighting efforts of the Police on Nevis.
"On behalf of the Four Seasons Resort, the Home Owners Foundation we all commend you, your officers and your entire staff for your valiant efforts in reducing crime and we look forward to working together to make this island paradise safe and crime free for everyone," she said.