GSS student is Nevis' 2016-2017 Youth Junior Minister of Tourism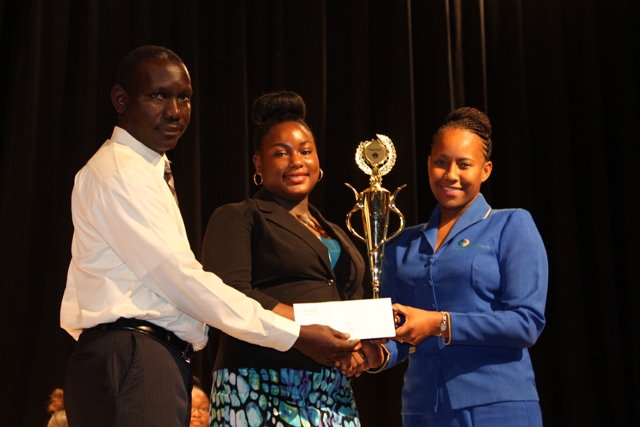 NIA CHARLESTOWN NEVIS (MAY 20, 2016) – Euloné Pemberton, a student of the Gingerland Secondary School (GSS), was announced as the 2016-2017 Youth Junior Minister of Tourism at the 2016 Bank of Nevis Ltd. Tourism Youth Congress at the Nevis Performing Arts Centre (NEPAC) on Wednesday May 19, 2016. It was hosted by the Ministry of Tourism in the Nevis Island Administration.
Pemberton won the coveted title at the congress with 539 points after she presented on the topic "Fostering entrepreneurship". Placing second with 522 points was Gabriella Brantley of the Charlestown Secondary School (CSS) who presented on the topic "The customers perception of the brand" while Devaughn Roland of the Nevis International Secondary School (NISS) placed third with 502 points after he presented on "Creating flow experiences."
Also participating in the congress were Shamona Wodoe of the NISS, Ercha Stapleton of the CSS and Delicia Burke of the GSS.
The congress was hosted in two rounds. Round one, required the students to research and prepare a speech on one of three topics provided by the Ministry of Tourism. In the second the participants were required to answer an impromptu question posed by the moderator Tarana Kacker, Youth Junior Minister of Tourism 2015-2016.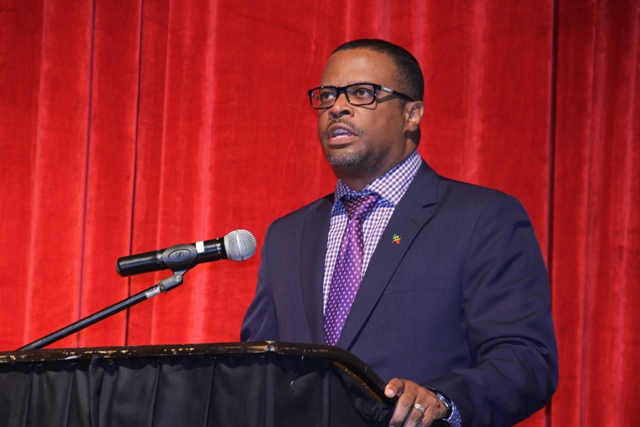 Deputy Premier of Nevis and Minister of Tourism in the Nevis Island Administration (NIA) Hon. Mark Brantley, was also present at the event. In welcoming he stated that the Tourism Youth Congress was an important event to the Ministry of Tourism.
"This is a very important event…because it exposes our young people…and the wider community…on Nevis to this very important industry that is tourism.
"I like to say that tourism is the most important industry in the entire island. I like to say that tourism impacts all of us…the revenue from tourism allows the government to fix our roads, fix our schools and all that is necessary," he said.
Meantime, in response to her win, Pemberton noted that although she was reluctant to participate in the congress, she was encouraged to do so by her teacher. She also stated that her participation has contributed significantly to her self-development.
"Winning this has helped to boost my self-esteem and helped me to be more courageous and it's a very good experience that helps develop your public speaking skills," she said.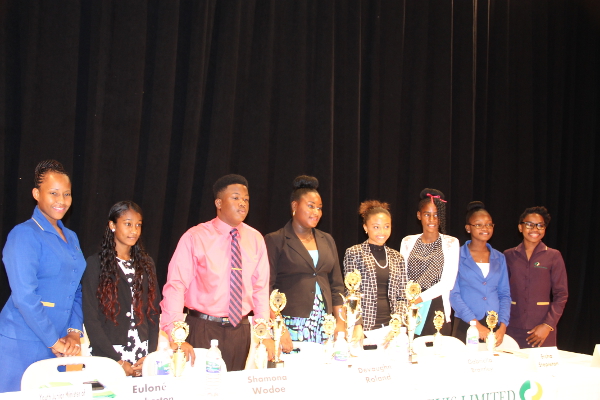 This year, the congress formed part of the Ministry of Tourism's first Exposition Nevis, a month of activities designed to draw awareness to the island's tourism product which forms an integral part of the island's economy.
The Congress is hosted annually by the Ministry of Tourism in preparation for the regional Caribbean Tourism Organization (CTO), Tourism Youth Congress which will be held in Barbados from September 14 to 16, as a part of the State of the Industry Conference.