GSS wins top spots in local leg of 2018 FCCA Essay Contest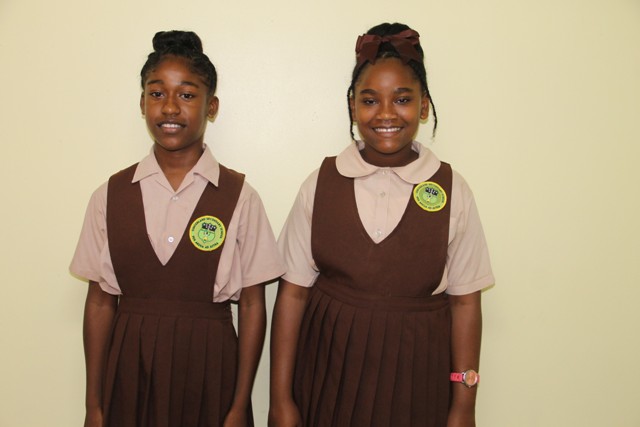 NIA CHARLESTOWN NEVIS (July 19, 2018) — Two students of the Gingerland Secondary School (GSS) captured the winning spots in both the junior and senior categories in Nevis of the local leg of the 2018 Florida Caribbean Cruise Association (FCCA) Essay Contest hosted by the Ministry of Tourism in the Nevis Island Administration (NIA).
An announcement from the ministry on July 18, 2018, named 12-year-old Ms. Dericia Williams as winner in the Junior Category and 13-year-old Ms. Jareecia Browne in the Senior Category. Their essays will represent Nevis at the regional leg of the contest.
The winners are a part of an elite group of students on the island who participated in the contest and won, some of whom have gone on to win at the contest's regional level.
Ms. Vanessa Webbe, Tourism Officer in the ministry, who along with Ms. Oksana Williams, coordinated this year's contest, told the Department of Information on July 19, 2018, that Nevis has been participating in the FCCA's programmes for some time.
"Nevis has consistently participated in the FCCA Foundation Scholarship programmes for over 20 years. Over the years our students have submitted extremely creative and informative essays and numerous Nevisian students have placed in the top three positions at the regional level.
"Rol-J Williams, then a student at the Gingerland Secondary School was the last regional winner placing second in the Caribbean in the Senior Category of the FCAA contest," she said.
Both winning essays will be forwarded to the FCCA's headquarters in Florida, USA, for the regional judging of the contest.  Regional winners will be announced by the FCCA by September 21, 2018.
Prizes will be awarded to the winners of both categories and also to their respective schools. The 1st place winner will receive US$3,000, 2nd place US$1,500 and the 3rd place US $1,000. Country finalists who do not place regionally will each receive US$200.
St. Kitts and Nevis is a member of the FCCA, a not-for-profit trade organization comprising of 18 member cruise lines operating in nearly 200 vessels in Floridian, Caribbean and Latin American waters.
The organization was created in 1972 and its mandate is to provide a forum for discussion on tourism development, ports, safety, security and other cruise industry issues.
The FCCA works with governments, ports and all private and public sector representatives to maximize cruise passenger, cruise line and cruise line employee spending as well as enhancing the destination experience and the number of cruise passengers returning as stay-over visitors.