Highschoolers Receive Opportunity to Travel to England as Part of Student Exchange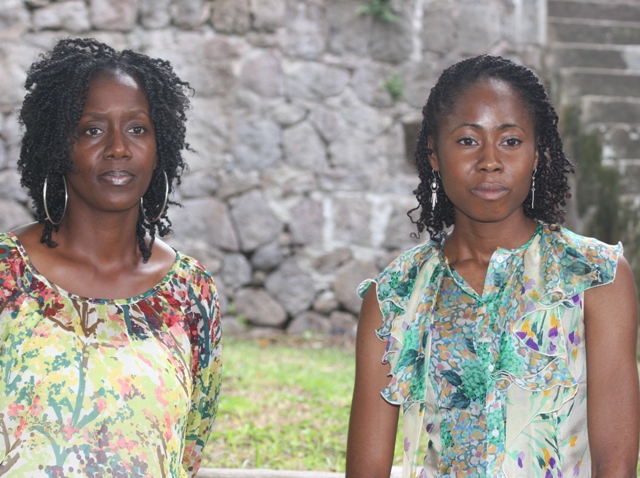 Project Coordinator Ms. Diahanna Hendrickson and Facilitator Ms. Jamila Watson
CHARLESTOWN NEVIS (November 10, 2010) — Thirteen students on Nevis can, in 2011, look forward to participating in a student exchange programme with students from England.
Under the auspices of the Youth Exchange Pilot Programme of the Yes to Youth Organisation in England, Ms. Diahanna Hendrickson and Ms. Jamila Watson have taken the leadership role in coordinating the programme.
Having worked with the Nevis Island Administration's Ministry of Social Development on other projects in 2006 and 2008, Ms. Hendrickson and Ms. Watson are enthused about the exchange programme and used their time on Nevis, last week, to encourage students to apply for admission into the programme.
"The programme," Ms. Hendrickson said, "is not just a fun filled holiday. It's going to be an educational exchange where students will be able to look at paths of education geared to what they want to do in their futures so I'll be putting them on to courses suitable to their needs; their academic levels in relation to their future progression ideas. Also, it would be educational in terms of learning the history; where they came from, how they came about being on Nevis, so right from slavery and even before."
In addition to the educational activities planned, visits to theme parks and museums coupled with discussions with other organizations to address global issues such as sexual health and crime will form part of the curriculum.
"We can look at those issues and try to address them the best way we can and make suggestions to our principals or people that are in education to make changes for our future," Ms. Hendrickson explained.
While the programme will be based in London, England, the students will have an opportunity to travel to other places such as Liverpool and Leeds, as highlighted by the project coordinator.
The student exchange is expected to officially kick off in March 2011, during the sports term, when students from England will spend three weeks on Nevis where they will be able to, according to Coordinator Hendrickson, "look at the comparisons between the two education programmes; that is, how students are taught in England and how they are taught on Nevis."
The successful 16 to 18 year old Nevisian students will have a similar experience in October 2011 when they will travel to England to participate in their portion of the exchange.
"We are targeting that age group because we want to look at students who are hoping to progress on to further education. I actually work in a college so that's the whole aim of it; students that are already currently in sixth form or actually have thoughts of progressing onto further education," Ms. Hendrickson said.
High School students on Nevis can ascertain additional information about the programme from their school principals as well as from the island's Principal Education Officer, Mrs. Lornette Queeley-Connor.
In speaking about the application process, Ms. Hendrickson said that the programme would cater to a wide variety of students; adding that a student's financial standing would not determine his or her acceptance into the programme.
"We are not just targeting students from wealthier parents. We are targeting students that may not be as well off as well but as long as they are within the age group of 16 to 18 years old, we are hoping to support those students to come to England as well.
"In terms of going educational wise, they could go educational paths or they could go vocational paths; that's what we mean by a wide range of students," Ms. Hendrickson said.
As part of the application process, an interested student would have to submit a personal statement along with a reference letter from a teacher or principal.
"Those applications will be forwarded to me in England and I will shortlist from those students corresponding with the Ministry of Education as well as their principals in order to get the right caliber of students to England," Ms. Hendrickson explained.
While Ms. Hendrickson and Ms. Watson have already secured funds from a private business on England, as well as assistance from the Ministries of Social Development and Education on Nevis, they are seeking the financial support the island's businessmen and women.
"We'll also be helping to write to businesses in Nevis and the United Kingdom [UK] for fundraising but we will need students who will be willing to actually execute fundraising activities themselves because obviously we are not going to be on island the whole time, so we need them to be able to keep the momentum going and carry those ideas forward but we will try to do the best that we can do in terms of assisting them and being able to communicate with them so that fundraising is going as planned," Facilitator Watson said, highlighting that through the fundraising efforts, they will be able to subsidize the amount of money that parents would have to contribute to the programme.
Ms. Hendrickson and Ms. Watson are cousins; both with Nevisian-born parents. The two ladies had been visiting Nevis for several years and said they found pleasure in "giving back" to Nevis because of their close family ties.