Hon. Eric Evelyn's World Fisheries Day 2023 Address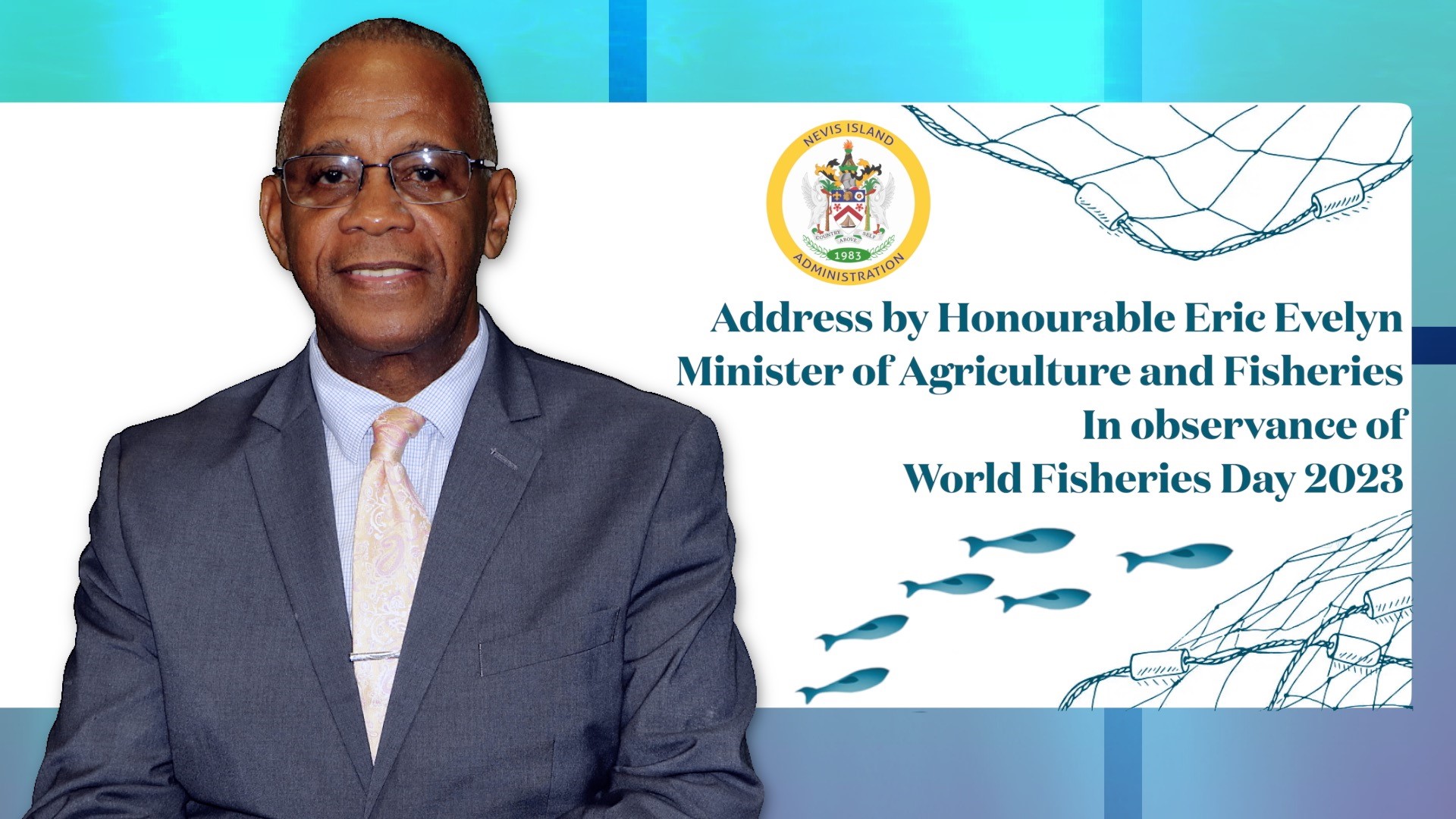 Address by Deputy Premier of Nevis the Honourable Eric Evelyn, Minister of Agriculture and Fisheries in the Nevis Island Administration in observance of World Fisheries Day 2023
Greetings,  
Annually on November 21st, World Fisheries Day is observed across the United Nations. This year's theme "Cast the Net" was inspired by the biblical passage in the book of John chapter 21 and verse 6.   
The Ministry and Department of Marine Resources continue to show appreciation to our fisher folk for their hard work and dedication. We commend their sacrifices of time, especially time away from family, energies, physical strength, and investment in equipment to supply seafood that we can choose to add to our diet.
Fishing is a risky profession that only a few will undertake, but it is an important part of our community. We admonish our fisher folk and communities to fish responsibly, pay attention to the off-season for turtle catch; leave undersized fish, lobster and conch etcetera, to develop to help sustain the ocean's life; be selective in fish catch to prevent overfishing; avoid coral damage and manage waste properly therefore avoiding pollution.
As we celebrate World Fisheries Day on Tuesday November 21, 2023, let us reflect as to why this day is celebrated each year. The main reasons are, firstly, it highlights the importance of the various practices that we need to undertake to conserve the health of our oceans and all the species of life that are dependent on it, and secondly, it signifies how important sustainable fishing is to small island communities and countries like ours.
So on this day let us take a moment to appreciate the hard work, dedication and commitment of our fishermen by thanking them for their invaluable contribution to food security within our society. We must keep our fishers and their families in our prayers as this is a dangerous and unsure profession.   
For this week, I want us also to purchase and eat local seafood products when we visit the fish market, food shops, restaurants and hotels. Let us continue to make informed choices and participate in existing initiatives. By doing this we as a community, and a nation will contribute to the conservation of our Marine Resources.
Finally let us all join with the Department of Marine Resources St. Kitts and Nevis and the fishermen of this noble profession by supporting them as they celebrate their week of activities. May this World Fisheries Day encourage us to forge forward together in conserving our marine and freshwater environments, while being intentionally sustainable therefore developing and growing our economy and improving the quality of the life in our communities.
Happy World Fisheries Day to all of our fishers and stakeholders.
Thank you and may God continue to bless us all.