Hon. Spencer Brand's address on the occasion of International Day of Disaster Risk Reduction 2023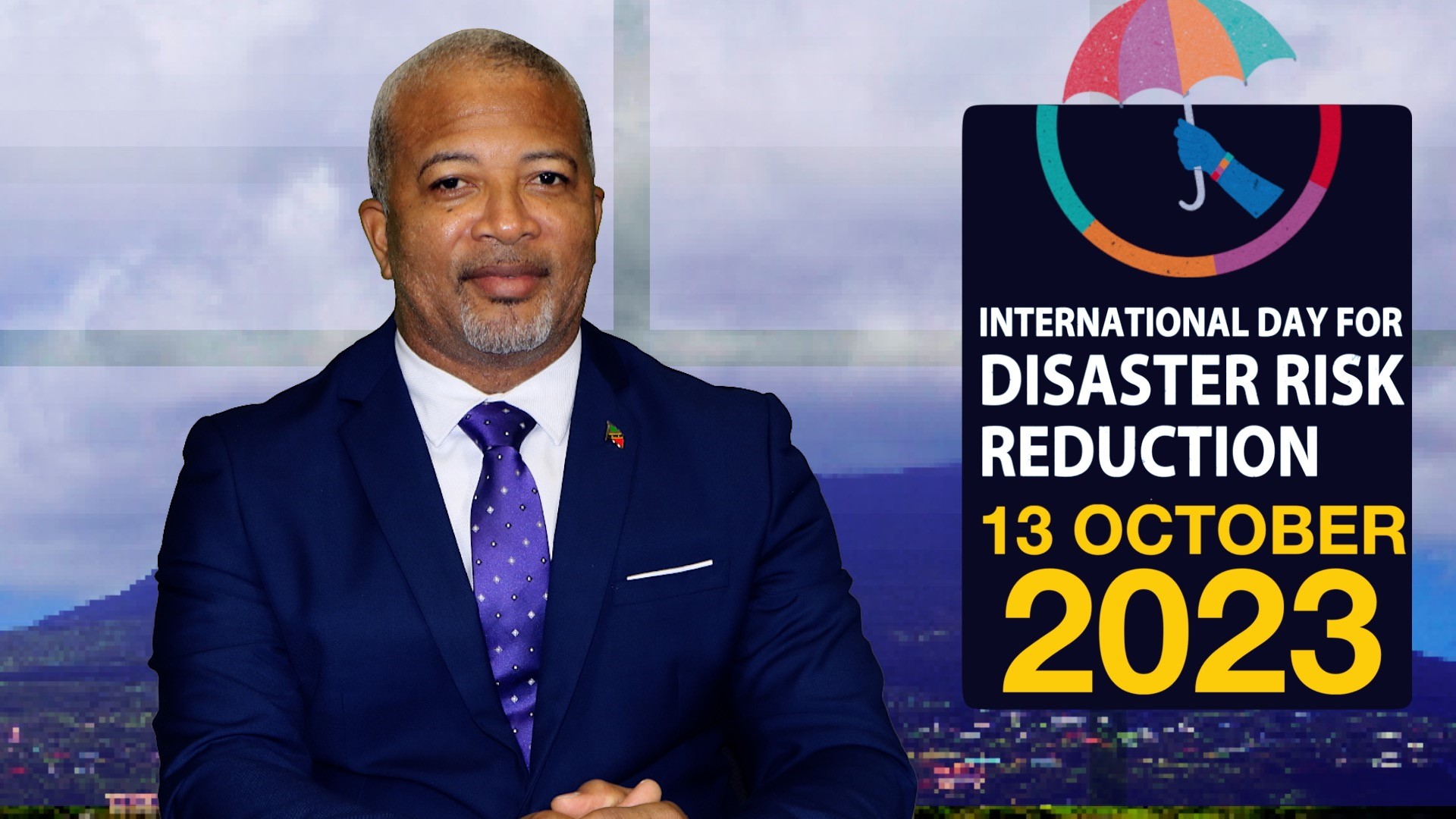 The Honourable Spencer Brand
Minister responsible for Disaster Management in the Nevis Island Administration
Address on the occasion of International Day of Disaster Risk Reduction
October 13, 2023
Ladies, Gentlemen and Children,
Today October 13 is recognized worldwide as the International Day for Disaster Reduction (IDDR). World Leaders at the United Nations General Assembly designated this day in1989 as an International Day to promote a global culture of disaster reduction, including disaster prevention, mitigation and preparedness.
This day commemorates how people of every kind, culture and communities around the world are reducing their exposure to disasters and raising awareness about the importance of reducing risks faced. It is also an opportunity to acknowledge the substantial progress being made toward eliminating loss of life, safe-guarding livelihoods, and improving access to health care.
Additionally, it also measures the progress made in the economic, physical, social, cultural and environmental assets of persons, businesses, communities and countries.
The "Reciprocal Relationship between Disasters and Inequality" is the theme for this year's International Day for Disaster Reduction.
The United Nations has recognized poverty and inequality as the main drivers that force communities to live in inadequate infrastructure, hazardous areas, and poor housing.
Inequality inhibits access to information, services, alerts and warnings. The global economic crisis, high debt levels impacting vulnerable countries, deepening inequalities and rapid increases in the cost-of-living due to supply chain disruptions are severely affecting the most vulnerable.
This puts women, girls and persons with disabilities most at risk of being exploited. Children are most vulnerable because they are dependent on adults for their safety and security.
A reduction in Inequality deserves a collaborative effort that must motivate all concerned stakeholders to work cohesively to address the problem. This includes genuine policy and social innovation, development professionals, academia, the private sector and local communities. This collective action will alleviate inequality wherever it arise.
A recent report from the United Nations has indicated that climate change has left millions homeless.
Storms, floods, fires, major drought and other extreme weather events have led to more than 43 million displacements involving children between 2016 and 2021.
Floods have triggered the most displacement of children, with more than 19 million impacted in mega-cities including the Philippines, India and China.
Droughts displaced 1.3 million children. This figure is often under-reported because of the slow onset nature of the drought hazard.
Scientists have continually expressed grave concern at excessive heat and rising temperature records being set globally, mainly driven by persistent and unusual warmth in the world's oceans. Heat waves and extreme temperatures have been reported in many cities and regions across the globe. The European Space Agency reported that September 2023 was 1.75 degrees Celsius (3.15 degrees Fahrenheit) warmer than the mid-1800s average temperature for September. The average temperature was 0.93 degrees Celsius (1.7 degrees Fahrenheit) above the 1991-2020 average for September.
This was the warmest above-average margin for a month in 83 years of record-keeping.
At the local level, the Nevis Island Administration continues to promote and sustain economic growth, making our economy more resilient. The Administration strives to ensure more equitable access to productive resources, health care, education, natural resources and public decisions.
Important services like education and health care have become more responsive, and inclusive to help children and their families better cope with disasters as was demonstrated during the recent COVID 19 Pandemic.
This Administration continues to invest in our people. Every child in Nevis, whether born into a rich or poor family, has the opportunity to develop his or her skills and physical well-being to their full potential. This investment in public health, quality public education and job training, creates an environment for social and economic equality that contributes to higher average economic prosperity and lowering unemployment.
Additionally, the Nevis Island Administration is promoting greater attention and investment in the strengthening of our local response capacity especially in the face of more frequent exposure from the effects of climate change.
Investment in Multi Hazards Early Warning Systems is a priority so everyone would have a chance to be prepared and protected in the event of pending disasters.
Adequate funding of Disaster Risk Reduction is reflected within the annual fiscal budgets. This is supported by Public-Private Investments and International Assistance to empower our people and to improve resilience.
The Nevis Disaster Management Department has partnered with our communities to identify and map hazards in addition to developing response plans.
Training of persons to enhance our volunteer pool and develop management structures are ongoing in our communities. The success of our Multiple Hazards Public Awareness Campaign, built largely on a participatory approach, engages a wide range of stakeholders. This strategy includes involving our Schools, Faith-Based organizations, Government Agencies, business sector, Regional and International Partners in the promotion of awareness of disaster prevention and managing disaster risks.
While the challenges of sustainable development are reasonably well advanced, promoting economic development, maintaining social inclusion and ensuring environmental sustainability remains our focus.
The need to reduce the vulnerabilities and build resilience in our society has now become more crucial than ever. It is imperative therefore, that we are armed with the knowledge of what to do before, during and after each impact.
Our vulnerability to disasters can only be minimized through effective risk reduction and maximizing the use of our resources.
I appeal to everyone to act responsibly, join the efforts of "Building Community Resilience Through Education, while Managing our Multi-Hazard Environment."
The Nevis Disaster Management Department is commemorating the International Day of Disaster Reduction with activities throughout the month of October and encourages All persons to participate in these events.
Disaster Preparedness, Mitigation and Response requires the participation of every individual. Let us use our collective skills and resources to help reduce the number of casualties and build a more resilient Nevis.
Thank you, and God bless