Honoured teachers on Nevis regard awards ceremony as a touching experience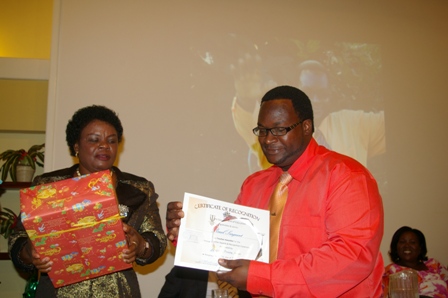 NIA CHARLESTOWN NEVIS (December 18, 2012) —
The nine teachers who were honoured at the 7th annual Teachers Awards and Recognition Ceremony at the Mount Nevis Hotel on December 15, 2012, said, the event was a touching experience and one which assured that their labour of love for the island's students was acknowledged.
That sentiment was echoed by honouree Mr. Reuel Sargeant of the Charlestown Primary School on behalf of the teachers as he offered a response on behalf of the group of honourees.
"On behalf of my fellow awardees I would like to convey my deepest and sincerest thanks and appreciation. It is nice that we could get our flowers while we are living. The Bible says your labour of love would not be in vein.
"Tonight colleagues our labour of love did not go in vein, tonight we are showered with all these accolades, all these appreciations and I must say I am sincerely touched and I believe my fellow colleagues feel the same. Once again I express my sincerest thanks and appreciation and may God continue to bless you," he said.
The other teachers honoured were Miss Trisha Archibald from the Elizabeth Pemberton Primary School, Ms. Shaundell Bernard from the St. Thomas Primary School, Ms. Latoya Blair from the Lyn Jeffers School, Mr. Merrill Carbon from the Charlestown Secondary School, Mrs. Terres Dore from the Joycelyn Liburd Primary School, Ms. Aleta Liburd from the Violet O. Jeffers Primary School, Mrs. Shobaina Prince from the Special Education Unit, and Mrs Maurisha Walters from the Ivor Walters Primary School.
The journey for their selection began just prior to July 2012 when their peers in their respective schools selected them, having seen in them something noteworthy and deserving of the recognition.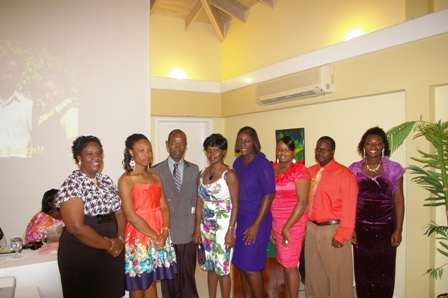 Notwithstanding, transferee Mrs. Lydia Claxton along with retirees Mr. Wilroy Gerald, Mrs. Ullida Gill, and Mrs. Joycelyn Washington were also honoured while Mrs. Althea Daniel and Dr. Telbert Glasgow were acknowledged for their contribution to Education on the island.
Education Official Mr. Laurence Richards who delivered the welcome remarks and chaired the event said the journey of the retirees represent an accumulated contribution in years of several decades. "This is a national gem that cannot be allowed to go unnoticed or unsung," he said.
According to Mr. Richards, the basic intent of the ceremony has been to identify, acknowledge and publicly showcase the Education Department's good teachers or the good that their teachers had been doing.
"In doing so, the Education Department acknowledges that these people and these actions help to develop and enhance our education system," he said.