Hydroponics Nutrient Workshop on Nevis deemed timely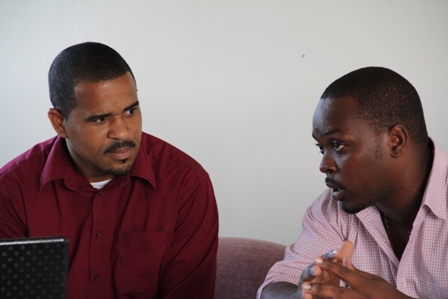 NIA-CHARLESTOWN NEVIS (November 14th, 2011) — Acting Director of Agriculture Mr. Randy Elliott regarded a Workshop on Hydroponics Nutrient hosted by the Department and Ministry of Agriculture on Nevis as timely and important for the future of agriculture on Nevis.
His comment came when he delivered remarks and declares the workshop officially opened on November 11, 2011 at the Department of Agriculture's Conference Room at Prospect. Mr. Elliott said Hydroponics – the growth of plants in liquid nutrients – was a growing practice on Nevis.
"Over the years we have been seeing a decline in terms of production in the field mainly because of improper nutrients applied to the plants, nutrients applied in limited quantities and having an understanding of hydroponic nutrients is very important.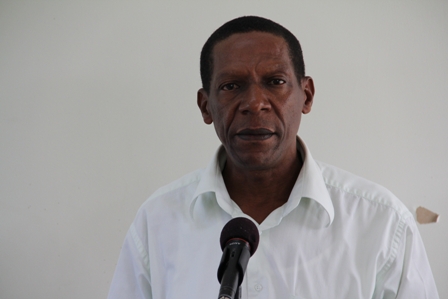 "We at the Department of Agriculture have started to do some work in hydroponic nutrients and within the past three to four years we have seen an increase of such activity on the island," he said.
Mr. Elliott listed a number of areas where Hydroponics was used on Nevis a decade ago in Cades Bay with Nevis Hydro Gardens. The practice extended to Clay Ghaut with Marcel Hanley then grew into Cox with Elvis Clarke. At present the Department of Agriculture had been using Hydroponics at its greenhouse in Prospect.
He noted that in the near future Hydroponics would be used at the Gingerland Secondary School and hopefully would expand to the other schools on the island.
"In the immediate future, we will also see this technology moving to the Gingerland Secondary School and again that is why we invited these students here. So we are hoping that the technology is here and these students are able to share with other members from their school," he said.
css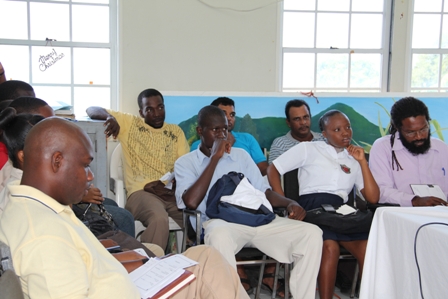 Meantime, Facilitator of the Workshop Mr. Stuart LaPlace who is a tutor at the Clarence Fitzroy Bryant College in St. Kitts said he was pleased students were invited to participate in the workshop and gave some insight into the seminar.
"The purpose of this workshop is basically to properly educate persons on how to use these nutrients, how to make Hydroponics cost effective and mitigate the start up cost.
"I am particularly pleased to see students here because as a teacher myself, I work with students on a daily basis and right now in St. Kitts we are putting together a programme where we are training students to be hydroponic technicians because that is a new and growing phenomenon worldwide and as food security is becoming an issue, we have to find a way to keep crops all year round," he said.
Chief Extension Officer in the Department of Agriculture Mr. Walcott James in his remarks regarded Hydroponics as a very important way of doing intensive and extensive agriculture in relatively any physical space.
He said the practise generated high net incomes to anyone who decided to invest in it and noted that one could choose from a few square feet to hundreds of acres for production with the advantage of low cost production.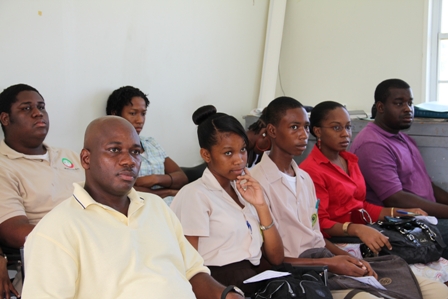 "While here in Nevis Hydroponics is not used on large scale by producers at present, no more than 3-4 farmers operating 3-4 units. On the other hand according to a report from the Rural Industries Research and Development Corporation, Australia is ranked in the top 10 of the world's commercial Hydroponics producers by area.
"It is the largest selling producer in the world with over 600 acres under production. Also the production of fresh vegetables, herbs and fresh flowers is now valued at $300-400 million at the gate farms equals to 20 percent of the total value of production," he said.
However, Mr. James said the Department and Ministry of Agriculture invited traditional farmers, students and the general public to consider the possibility of investing in Hydroponics to take advantage of the market at any given time.
He noted that Hydroponics was an important practice in an environment of constant weather changes which made it very difficult to produce fresh vegetables, when the demand for such was very high.