Ms. Ilene Smithen celebrates 101st birthday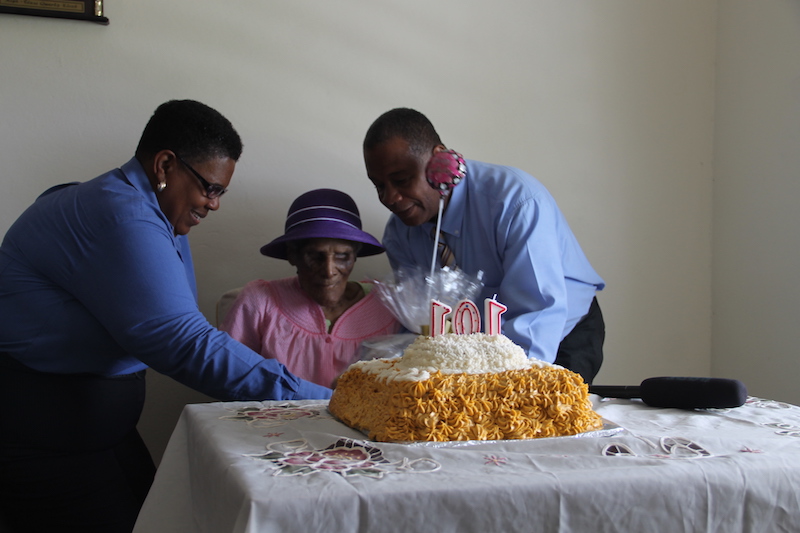 NIA CHARLESTOWN NEVIS (June 20, 2018) — Ms. Ilene Smithen of Webbe's Ground, Zion celebrated her 101st birthday at her home today, (June 20, 2018) in the presence of Hon. Eric Evelyn, Area Representative and Minister with responsibility for the Ministry of Community Development.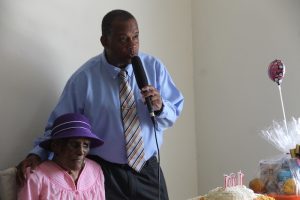 "She's extra happy for us to be here with her today to celebrate her 101stbirthday and I would like on behalf of the Ministry of Social Development, the entire staff at the Department of Social Services to wish her a happy happy 101st birthday. May God continue to grant her grace and good health and strength so that she can be around to see many more.
"Sis Ilene, we love you very much. I trust that we will be back here next year. It's just like yesterday we were at the Zion Chapel celebrating your 100thbirthday, the days are flying so fast and in a few short months we're going to be back here for your 102nd birthday," Hon Evelyn said.
Hon. Evelyn then presented her with a gift basket inclusive of fruits and other food items and a $50 voucher that was donated by the City Drug Store in Nevis. She also received a cake from the Ministry of Community Development.
Although visually impaired, she was delighted by the gesture and the celebratory expressions.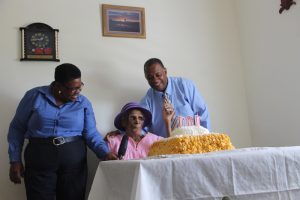 "Thank you all," she said in response.
She also thanked God for the absence of pain and further thanked Pas. Theophilus Kelly for his daily visits.
She also recalled her days of nurturing her children as well as many others, thanking God for his hands upon her as she helped in the community.