IMF Official describes discussions with Premier Amory as fruitful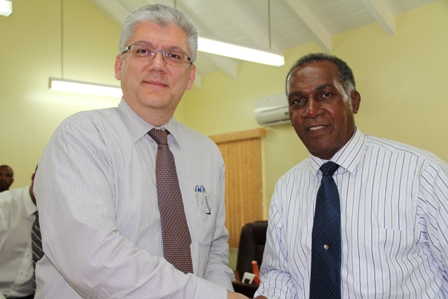 NIA CHARLESTOWN NEVIS (January 28, 2013) —
A top International Monetary Fund (IMF) Official, described discussions with Premier of Nevis and Minister of Finance in the Nevis Island Administration (NIA) and his team at the Ministry of Finance's conference room on January 25, 2013 as fruitful.
Division Chief of the IMF's Western Hemispheric Department Mr. George Tsibouris made the comment in brief remarks at the end of a one day visit to Nevis, by a delegation from the Fund and a representative of the East Caribbean Central Bank (ECCB). The visit was to discuss the government's programme supported by the Fund.
"I think our conversation was very fruitful. We talked about economic developments for 2012; we also had a good discussion about economic policies in the period ahead, including the upcoming 2013 budget discussions.
"I came away from this meeting with a very strong sense of the commitment the Premier has to improving the economic situation of Nevis. I think the vision that he [Premier Amory] is echoing is one that we will strongly support, in the sense that we stand ready to provide support to policies that are aimed to enhance growth in this economy and address issues of employment. So this is a very good first conversation and we hope and look forward to continuing this strong dialogue in the period ahead," he said.
The IMF Official also noted that the team took the opportunity to congratulate Premier Amory on his electoral victory on January 22, 2013 and although he had been at the helm for only a few days, they thought it prudent to use the opportunity to brief him on the Fund's programme and on recent economic developments.