IMPORTANT: TROPICAL STORM KATIA – ADVISORY NUMBER 5 – 30/08/11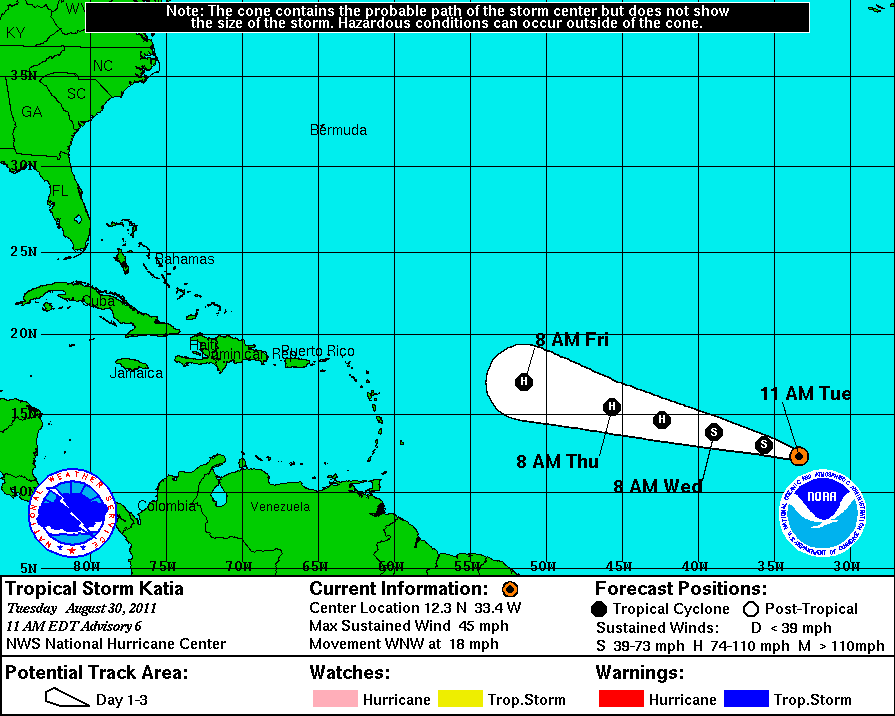 August 30 —
Tropical Storm Katia has developed in the eastern Atlantic Ocean and currently is headed on a path that would take it past the Eastern Caribbean towards the end of the week.
According to the U.S. National Hurricane Center in Miami, the system is forecast to strengthen and Katia is expected to be near hurricane strength by late Wednesday or early Thursday.

The storm is on a path that is slightly north of the one that Hurricane Irene took. It is currently is in the mid Atlantic Ocean and is on a latitude paralleling the north coast of South America. Katia has 40 m.p.h. winds and currently is moving west northwest at about 15 m.p.h.
St. Kitts-Nevis, along with other Eastern Caribbean States, felt the power of Irene as it passed the region, but aside from local flooding and strong winds the storm had no severe impact. It did, however, cause extensive damage in The Bahamas, where the insured losses are estimated to be in the range of US$700 million.
The National Hurricane Center is using the same name list used in 2005, with Katia replacing Katrina, the massive hurricane that devastated New Orleans and the Mississippi Gulf Coast. Because of the widespread damage it caused, the name Katrina was retired.
BULLETIN – TROPICAL STORM KATIA ADVISORY NUMBER 5
500 AM AST TUE AUG 30 2011
..NEW TROPICAL STORM MOVING QUICKLY WEST-NORTHWESTWARD ACROSS THE TROPICAL ATLANTIC… SUMMARY OF 500 AM AST…0900 UTC
LOCATION…11.8N 31.7W
ABOUT 535 MI…855 KM WSW OF THE SOUTHERNMOST CAPE VERDE ISLANDS
…MAXIMUM SUSTAINED WINDS…40 MPH…65 KM/H
PRESENT MOVEMENT…WNW OR 290 DEGREES AT 17 MPH…28 KM/H
MINIMUM CENTRAL PRESSURE…1006 MB…29.71 INCHES
WATCHES AND WARNINGS
——————–
THERE ARE NO COASTAL WATCHES OR WARNINGS IN EFFECT.
DISCUSSION AND 48-HOUR OUTLOOK
——————————
AT 500 AM AST…0900 UTC…THE CENTER OF TROPICAL STORM KATIA WAS
LOCATED NEAR LATITUDE 11.8 NORTH…LONGITUDE 31.7 WEST. KATIA IS
MOVING TOWARD THE WEST-NORTHWEST NEAR 17 MPH…28 KM/H. THIS GENERAL MOTION IS EXPECTED TO CONTINUE OVER THE NEXT 48 HOURS WITH A
GRADUAL INCREASE IN FORWARD SPEED.
MAXIMUM SUSTAINED WINDS HAVE INCREASED TO NEAR 40 MPH…65 KM/H…
WITH HIGHER GUSTS. ADDITIONAL STRENGTHENING IS FORECAST DURING
THE NEXT 48 HOURS…AND KATIA IS EXPECTED TO BE NEAR HURRICANE
INTENSITY BY LATE WEDNESDAY OR EARLY THURSDAY.
TROPICAL STORM FORCE WINDS EXTEND OUTWARD UP TO 35 MILES…55 KM
FROM THE CENTER.
ESTIMATED MINIMUM CENTRAL PRESSURE IS 1006 MB…29.71 INCHES.
HAZARDS AFFECTING LAND
———————-
NONE.
NEXT ADVISORY
————-
NEXT COMPLETE ADVISORY…1100 AM AST.