Response to 2011 Summer Job Attachment Programme on Nevis overwhelming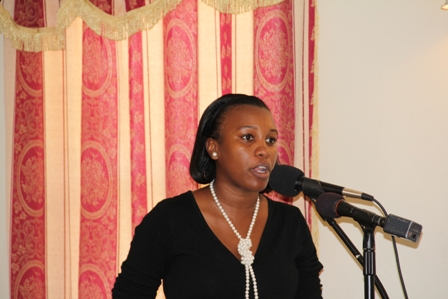 NIA-CHARLESTOWN NEVIS (August 29, 2011) —
A total of 50 placements were found for participants of the 8th Annual Summer Job Placement Programme, 12 of whom were assigned to the Health Services Programme at the Alexandra Hospital and the Charlestown Dental Unit.
According to Youth Services Coordinator in the Youth Division of the Social Services Department Mrs. Diana Pemberton the response was overwhelming but staff at the Division managed to solicit the assistance of 30 businesses and Government Offices on Nevis to participate in this year's programme.
She made the disclosure on Friday at the end of the six-week programme at a ceremony at the Red Cross Building in Charlestown.
The Youth Services Coordinator noted that the programme, an initiative of the Youth Division in the Ministry of Social Development in the Nevis Island Administration, commenced in 2003 to provide practical work skills, professional ethics and to learn more about seeking and retaining employment.
"The internship allows students to benefit from a professional mentorship within the organisation they are placed. This mentorship significantly shapes the work values the future employee develops," she noted.
Mrs. Pemberton explained further that this year's Programme commenced in March 20011, when an attempt was made to solicit support of over 100 businesses on Nevis and the application process for students of 4-6th form Secondary school students commenced on June 15th.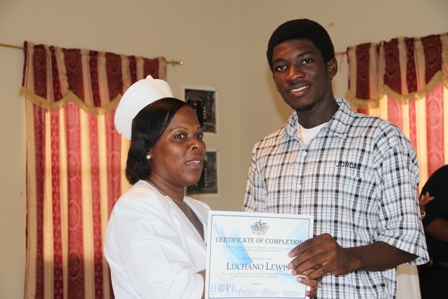 She said a total of 25 students applied on the first day and as the two-week registration period continued, a total of 102 students applied to the programme.
"An overwhelming number of 23 applicants applied for jobs within the Ministry of Health to assist with the employment of interns which was graciously accepted. Interviews were held from July 5th to 8th with the successful selection of 81 students," she said.
A two-day training workshop was hosted by a representative of Helping Our People Excel (HOPE) NEVIS INC from July 13-14th and sessions covered topics which included Workplace Ethics and Morals; Productivity and Professionalism; Communications in the Workplace; Budgeting and Saving and a case study and at the end a final selection of interns were made.
In conclusion, Mrs. Pemberton told the participants that they should cherish the positive skills and values they had learnt during the six week-programme and they should apply them to their daily lives.
To the employers who agreed to support the programme the Youth Services Coordinator expressed gratitude.
"To the employers I say a heartfelt thank you for your support this year and over the years and do hope that we can look forward to your investment in our nation's youth next year God's willing," she said.
The Department of Information in the Premier's Ministry was one of the NIA's offices that participated in the Programme. The intern assigned to the Department's Editorial section was Mr. Luchano Lewis a student of the Charlestown Secondary School.