Israel's Ambassador to St. Kitts and Nevis pays courtesy call on Nevis' Premier Amory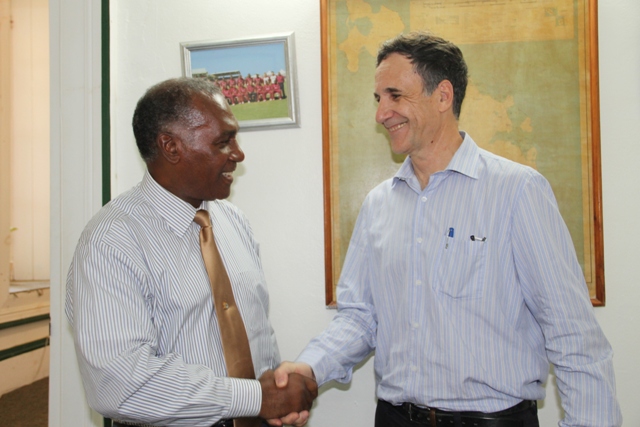 NIA CHARLESTOWN NEVIS (APRIL 07, 2015) — Israel's Ambassador to St. Kitts and Nevis and the Caribbean His Excellency Mordehai Amihai-Bivas says the Jewish community which existed on Nevis would help in building better bilateral relations between Israel and St. Kitts and Nevis.
The Ambassador's comment came when he paid a courtesy call on Premier of Nevis Hon. Vance Amory at his Bath Plain Office on April 07, 2015.
"This is something of great importance, of great potential and we shall certainly look into and try to see how we can turn this historical fact which is of great importance to everybody, following not only Jewish history but history in general, trying to understand the origins of this place, the different communities that lived there, the different cultures that were merged together to create what is the modern day Nevis and what is the modern day St. Kitts which I think is important to all of us," he said.
The Ambassador described his tour of duty to the Caribbean as a mission of importance. He said there was a great deal of friendship among Caribbean nations towards Israel and it was a good foundation on which they could further develop relations and look for some practical ways in which they could further enhance and strengthen them.
Meantime, Mr. Amory welcomed the Ambassador to Nevis and said that they had discussed the Jewish community on the island and the linkage which, he believed, existed between St. Kitts and Nevi Israel through that community.
The Premier noted that he was aware Israel doesn't have any business or interests in Nevis but expressed the view that because Nevis has a tourism-based economy, it is important to explore the linkages between the islands.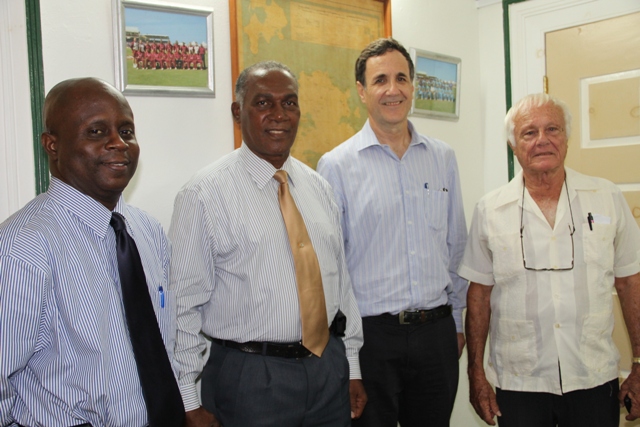 He pointed to the Jews Cemetery on Government Road and the ruins of what is believed to be a Jewish synagogue located near Government Headquarters in Charlestown. Mr. Amory said it would be beneficial to develop and expand those areasso that those who had an interest in their history could visit Nevis to see what could be done.
However, he said it was the intent of the Nevis Island Administration to develop the areas and to ensure it remained attractive for those who visited the island.
Ambassador Amihai-Bivas was accompanied Israel's Honorary Consul in St. Kitts and Nevis Jacques Cramer who resides in St. Kitts.
Also present was Permanent Secretary in the Premier's Ministry Wakely Daniel