JLPS cafeteria in Gingerland officially opens; investment to improve quality of life, says Premier Amory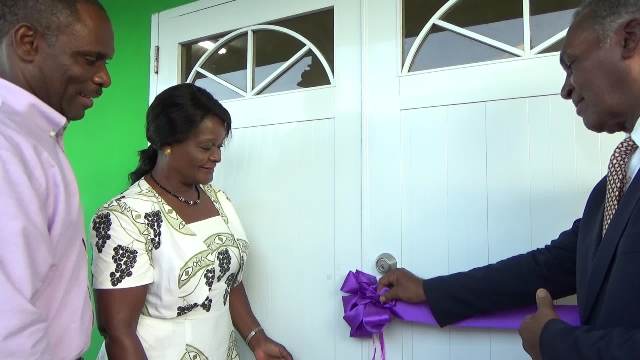 NIA CHARLESTOWN NEVIS (February 20, 2017) — Premier of Nevis and Minister of Education in the Nevis Island Administration (NIA) Hon. Vance Amory, described the newly constructed Joycelyn Liburd Primary School (JLPS) cafeteria in Gingerland, as part of the Administration's ongoing investment to improve the quality of life of the people of Nevis, in particular the youths.
Mr. Amory, who is also the Area Representative for the St. George's Parish, was at the time delivering an address at the cafeteria's official opening ceremony on February 14, 2017, when he made the comment. The school is the last primary school on the island to be outfitted with a school kitchen.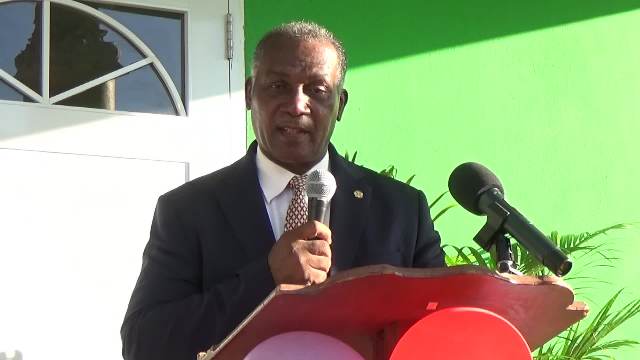 He stressed the importance for parents to ensure that children ate correctly and for discipline in their dietary behaviour. He stated that there should be no options where that is concerned.
"There is one option and that is to do the right thing and eat the right things. That is the only way to get what we are seeking to do in the school, if we want to deal with the issue of chronic diseases, ill health, deficit in attention at schools and being able to be fit and strong, long into the years just as our grandparents were.
"So my charge to us, is that we insist on our children eating the correct foods. There are charts which you can follow. The School Meals Programme will follow the charts of the balanced diet, of nutritious foods and we are giving that to your children," Mr. Amory said.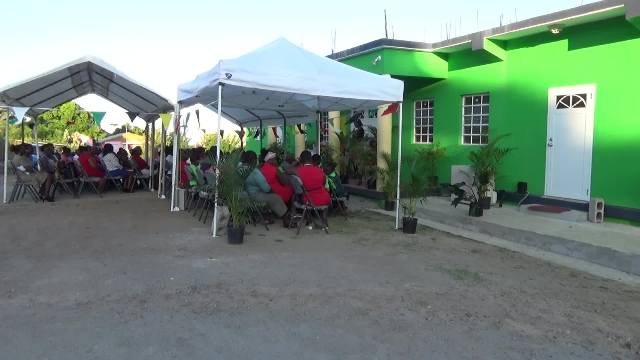 He told the parents, that the Administration is not charging for the full cost of the meal because the objective, is to ensure that students have well prepared and nutritious meals so that they will be better off for in the long run.
Mr. Amory used the opportunity to commend Permanent Secretary in the Ministry of Finance who is a member of the St. Georges Development Committee and Minister of Communication and Works Hon. Alexis Jeffers for their steadfast role in ensuring the project's successful completion, Mr. Gaskell and his team and other members of the community who assisted in ensuring the project's success.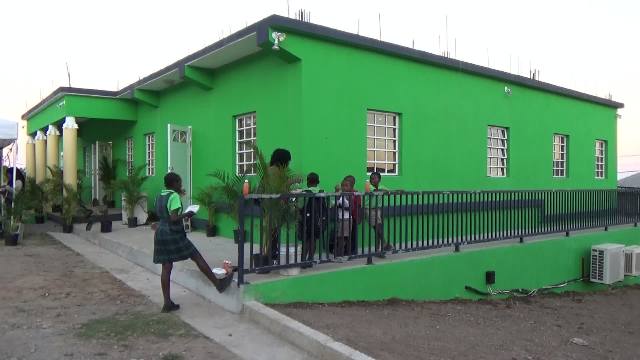 Other remarks were made by Mrs. Marion Lescott, Assistant Supervisor of the Cafeteria, Ms. Earline Maynard, Coordinator-School Meals Programme, Mr. Colin Dore, Permanent Secretary in the Ministry of Finance and Mrs. Palsy Wilkin, Principal Education Officer. The invocation and blessing was done by the School Chaplain, The Venerable Archdeacon Alson B.H. Percival, the Vote of thanks was delivered by Barbara Hendrickson, JLPS Principal while the ribbon cutting was done by Mr. Amory's wife Verni Amory.