Junior Minister Hazel Brandy-Williams publicly applauds caregivers of elderly for taking care of the elderly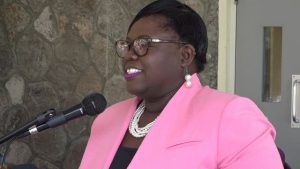 NIA CHARLESTOWN NEVIS (October 25, 2017) — Hon. Hazel Brandy-Williams Junior Minister in the Ministry of Social Development with responsibility for seniors on Nevis, applauded family members and care givers on Nevis, who she says continue to provide quality care necessary for the well-being of the seniors.
The Minister, who was delivering remarks at a ceremony honouring eight centenarians on Nevis marking International Month of the Elderly and hosted by the Social Services Department, Senior Citizens Division, stressed that the work of caregivers was not an easy task and as such, their efforts could not be over-emphasised or over-appreciated.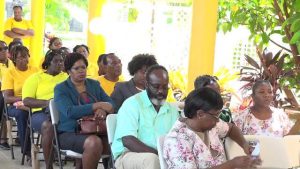 "Caring for our seniors, our elderly it is hard work and for those persons who give of their life of their service, caring for this demographic, it is a rewarding and fulfilling job but it is difficult.
"So we want to applaud these persons every effort we get and every time we have an opportunity to do so, we should applaud their efforts and appreciate their efforts and may God continue to bless them richly," she said.
The event which was held with the theme, "Stepping into the future: tapping the talents, contributions and participation of older persons in society" at the Flamboyant Nursing Home, formed part of the month of activities on Nevis to observe the United Nation's annual Month of the Elderly celebrated in October.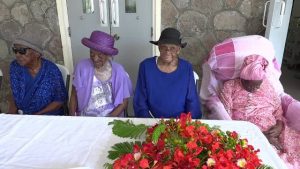 Mrs. Brandy-Williams who also presented the honourees with gift baskets, explained that the centenarians on Nevis, Celian 'Martin' Powell (105 years), Florence 'Mama Katie' Liburd (102 years), Albena 'Dovie' Elliott (102 years), Rosetta Hull (101 years), Mary 'Mama Katie' Browne (101years), Artemisia 'Ettie' Jeffers (101 years), Eileen Swanston-Smithen (100years) and George Wilkinson (100 years) combined, represented 812 years and it is a legacy everyone should strive to emulate.
Celian "Martin" Powell is the oldest person in St. Kitts and Nevis. She is among six of the eight centenarians, on Nevis who come from a small proximity between River Path and Zion in Gingerland.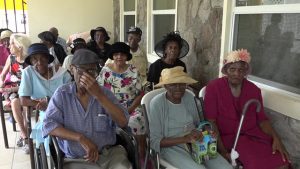 During the ceremony, other remarks came from Hon. Mark Brantley, Deputy Premier of Nevis and Senior Minister in the Mistry of Social Development, Ms. Joyce Moven, Deputy Director in the Social Services Department and Ms. Alicia Brown, Activities Co-ordinator at the Flamboyant Nursing Home.
Pastor Theophilus Kelly delivered the opening prayer, Reverend Bonny Brown read the scripture, Mr. Gavin Pemberton rendered the national anthem, Meredith and Sylvia Hendrickson paid tribute in song and Ms. Trudy Prentice delivered the vote of thanks.