NIA continues to demonstrate seniors matter, Social Development Minister Brantley says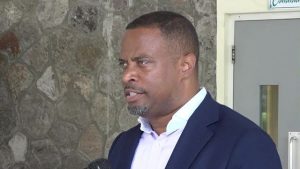 NIA CHARLESTOWN NEVIS (October 27, 2017) — Hon. Mark Brantley, Deputy Premier of Nevis and Senior Minister in the Ministry of Social Development, says the Nevis Island Administration (NIA) continues to demonstrate that the seniors on Nevis matter.
The Minister's remark came when delivered remarks at a recent celebration in honour of the eight centenarians on Nevis. The event was hosted by the Social Services Department, Seniors Division in the Ministry of Social Development, at the Flamboyant Nursing Home. It formed part of the United Nations annual Month of the Elderly activities observed on Nevis.
"Our seniors now in Nevis are being feted in an unprecedented way. Our seniors are now have access to free electricity and water, those who qualify. Our seniors have access to free bus passes. Our seniors are being taken care of in tangible ways… So we are demonstrating not just in word but in deed, that our seniors matter to us," he said.
Mr. Brantley, thanked Hon. Hazel Brand-Williams, Junior Minister in the Ministry and her team, for the work they are involved in to ensure the well-being of the island's seniors.
He also thanked the care-givers for reminding the seniors that they can and should have a dignified life that is happy and one free of the stresses and strains they endured for a modern Nevis.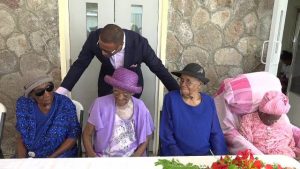 The eight centenarians honoured by the Ministry are Celian 'Martin' Powell (105 years), Florence 'Mama Katie' Liburd (102 years), Albena 'Dovie' Elliott (102 years), Rosetta Hull (101 years), Mary 'Mama Katie' Browne (101years), Artemisia 'Ettie' Jeffers (101 years), Eileen Swanston-Smithen (100years) and George Wilkinson (100 years)
Minister Brantley, said it is important to know how deserving the seniors are to Nevis.
"We recognise that we and all that we enjoy today, has come as a result of their hard work and their effort. You cannot build a house on sand. You cannot build an island or community on quicksand. You must build it on a solid foundation and these are the people who laid the foundation…
"Sometimes we must remind ourselves that were it not for them and their sacrifice, we could not enjoy that which we enjoy today and that should encourage all of us to continue to give back. To continue to honour and support [them]," he said.