Local and foreign demand for aggregate will be met, Board Chairman says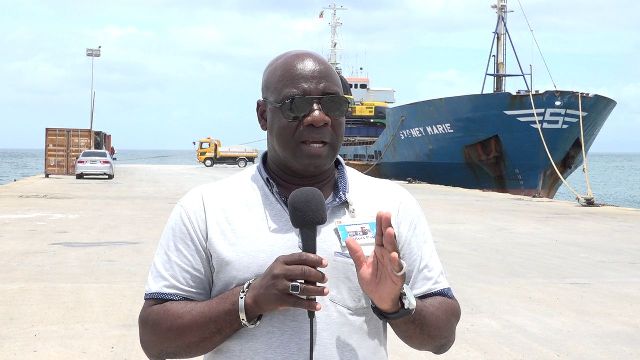 NIA CHARLESTOWN NEVIS (August 20, 2018) — Hon. Alexis Jeffers, Deputy Premier of Nevis and Minister of Natural Resources says the local market need not worry over the Nevis Housing and Land Development Corporation's (NHLDC) move to respond to the export market's growing demand for material from the Nevis Island Administration (NIA)-owned quarry at New River.
Mr. Jeffers told the Department of Information on August 17, 2018, while a second shipment of crushed stone was being loaded onto a barge at the Long Point Port headed for Guyana, that the NHLDC will continue to satisfy the local market.
"Indeed, the local market should not be concerned because we are able to satisfy the demands of two local concrete producers. They have been able to come on a daily basis and get the aggregates that they need because we have been able to produce to satisfy them.
"I will say that over the last eight months there haven't been any importation of crushed stones into Nevis. So it therefore means that we have been able to supply the local market as well. There are other producers here on the island of Nevis," he said.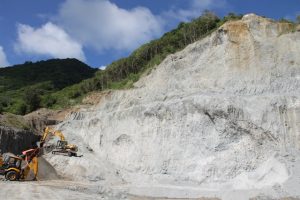 Mr. Jeffers, who is also the Chairman of the NHLDC Board of Directors, stated that at present the export market is a lucrative one and if the foreign demands are satisfied it brings some foreign exchange into the corporation's coffers.
He explained that although the NHLDC is engaged in other areas that generate revenue, the aggregate from the quarry provides an opportunity to make extra to keep the corporation afloat.
Mr. Jeffers noted that the NHLDC has been receiving inquiries about material from other islands with the most recent coming from Tortola for 5,000 tons of crushed stone.
He believes the inquiries are an indication that word is getting out that Nevis is in the export market for aggregate and the corporation is positioning itself to take advantage of the demand.
"It behooves us to then put ourselves in a position to satisfy those demands and in doing so, it means than that we have to increase the capacity of production and we are going to be purchasing another crusher and also another screen or sifter to assist us in achieving the volumes that we would like to produce," he said.
Responding to whether the quarry could support greater excavation, Mr. Jeffers stated that he believes the volume of material there could last for a long time. However, management to ensure its sustainability is an important factor.
In 2017, the NHLDC had purchased EC$1.6 million worth of equipment for the quarry – a Terex Finlay I-100 Impactor Crusher, an Anaconda three deck screen, a 3 1/2 yards front-end-loader and a 29-ton excavator.
Apart from supplying the local market with aggregate, the NHLDC has sold products to St. Kitts, and has so far exported 3,000 tons to St. Maarten and 2,500 tons to Guyana. They have also exported 2,100 tons of quarry sand to St. Martin.