Locals Awarded for Contribution to Nation Building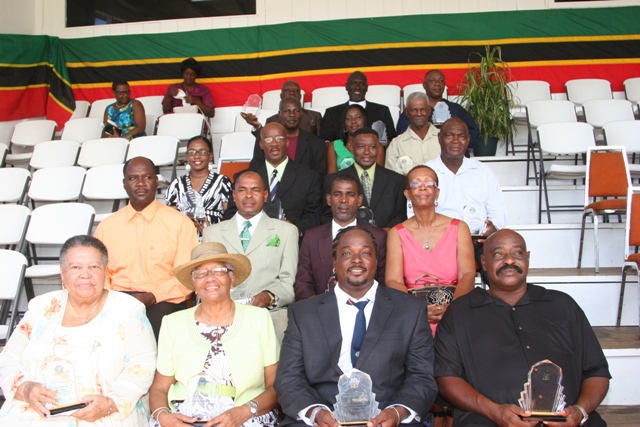 Honourees at Independence parade
CHARLESTOWN NEVIS (September 22, 2010) — The Nevis Reformation Party-led Nevis Island Administration [NIA] continues to recognize the work of Nevisians in various areas of community development.
Borrowing from this year's Independence theme of "Strengthening Families for Positive Nation Building," the NIA, on Monday, honoured 22 persons for their outstanding service to building the nation.
This year's recipients in the area of Agriculture were Mr. Ronald Pemberton and Mr. John F.A. Clarke whose awards were accepted by Mrs. Donette Pemberton-Lewis and Mr. Michael Angelo respectively. Miss Sheila Evelyn and Mr. Eugene Weekes received the Community Service awards while Mr. Stewart Lawrence received the Culture award.
In the field of Education, Dr. Telbert Glasgow and Mr. Pearlievan Wilkin were awarded while Ms. Tricia Williams accepted the Fishing award on behalf of her father Mr. Joseph Budgeon.
Mr. Sylvester Gajor, Mr. Guilbert Phillip and Mr. Kenrick Smith were awarded for their contribution to Electricity Generation while Dr. Linton Liburd and Mrs. Loinette Wiltshire for their work in Health Services.
The award recipients in the area of Postal Services were Mrs. Sheila Daniel, Mr. William Dore and Mrs. Lorna Howell. Latoya John accepted the Small Business award on behalf of her father Mr. Richard Moore.
Mr. Sydney Jeffers and Mr. Nicholas Bussue were the award recipients in the area of Taxi Service while Mr. Earl Clarke received the Technology award. The recipients of the awards for outstanding service in the area of Trade and Industry were Mr. Marcel Forbes, Mr. Clayton Liburd and Mr. Samuel Webbe.
The awards were presented by Deputy Governor General His Honour Mr. Eustace John.
Government officials including Premier of Nevis the Honourable Joseph Parry, permanent secretaries, civil servants and a large cross section of the Nevisian community attended the annual parade and awards ceremony which was held at the Elquemedo T. Willett Park.