MaccaX Triathlon contest trip winner wowed by Nevis charm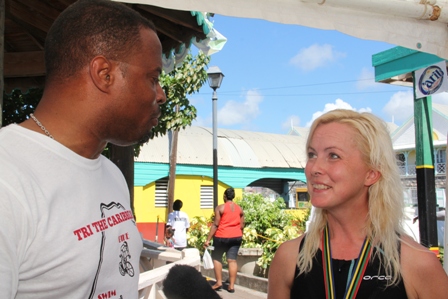 NIA CHARLESTOWN NEVIS (November 20, 2013) — The MaccaX Nevis International Triathlon was held on Nevis on November 16, 2013 but among the participants of the sprint was United Kingdom (UK) triathlon enthusiast Ms. Pam Challen who had won a contest sponsored by Chain Reaction Cycles, a popular American-based online company in collaboration with Nisbet Plantation Inn, the St. Kitts and Nevis Triathlon Federation and the Nevis Tourism Authority (NTA).
In an interview with the Department of Information during the triathlon, Ms. Challen whose one-week stay spanned November 12 to 19, 2013, said she was wowed by the charm of Nevis, an island she had limited knowledge of until the competition.
"It's just beautiful. When I won the competition I wasn't too sure where Nevis was so I Googled it. There was a lot of information on the web about it. I really couldn't wait to get out here. I felt like I was going to drop into paradise and the thought that there was a triathlon here as well … I love triathlons and … it's been a dream come true really.
"I'm staying at the plantation hotel up at Nisbet and it's been just absolutely fantastic. The staff are absolutely lovely. Everybody has been so nice to me so far and I even got lost the other day out on the bicycle and I just stopped to ask where about am I and they said just go back that way. So the friendliness of the island has been amazing," she said.
Ms. Challen, whose prize afforded her a one-week stay on Nevis, said she would return to the island to participate in the triathlon or just for a vacation.
"I would love to come back and do this again but I would love to do the longer distance next time. It really sparked me up today and I would love to do it again.
"Just for vacation, definitely, there's the Nevis Peak to go up yet and so much more to do. There is the rainforest to walk through; there's just so much I want to do even go out on the fishing boats, all that sort of thing. There is so much here honestly," she said.
Meantime, Deputy Premier of Nevis and Minister of Tourism and Sports Hon. Mark Brantley who attended the triathlon thanked Ms. Challen for coming to Nevis and encouraged her to return.
"All I want to do is just to say thank you for being here. I have responsibility for both Sport and Tourism in the local government here and it's an absolute pleasure to welcome you.
"I hope you've had a great time and I hope you will come back next year [when] this event is going to be even bigger and so we're hoping that you would tell some friends and will bring them with you. Nevis has a lot to offer so thank you very much," he said.
Chief Executive Officer of the NTA Mr. Greg Phillip gave some detail about the contest which brought Ms. Challen and a companion to Nevis.
"We have Pam and John from the UK. Pam won a free trip to Nevis from Chain Reaction Cycles; it was in conjunction with Nisbet Plantation, the St. Kitts-Nevis Triathlon Federation and also the Nevis Tourism Authority. She won this free trip to Nevis out of, I think, close to 1,000 people who entered and she had to answer some questions on Nevis and also on the triathlon and she went into the draw and she won," he said.
According to Mr. Phillip, the contest assisted with the NTA's promotions to attract a greater volume of visitors to Nevis.
"The promotion itself did a whole lot for the island of Nevis because it accomplished something we were really looking for which was exposure and building awareness of the island out there. The other good thing is that it builds a lot of awareness for us in general as an island destination and also for us as a destination where people can come and participate in a sport like triathlon.
"I say that because Chain Reaction Cycle is the world's largest online bicycle shop meaning that they have over 1million online customers. So while only about 1,000 or so people entered to try to win the trip to Nevis, well over that, I would assume hundreds of thousands of people, would have seen the name of Nevis and got to hear something about the triathlon so that's success for us," he explained.
The MaccaX Nevis International Triathlon was the first event of its kind, named after world renowned Australian triathlete Mr. Chris McCormack. The event attracted about 60 participants. Mr. Phillip believes that the event would grow when it is held at the same time in 2014.
The NTA official said the event, which was staged in collaboration with support from the NIA, had already garnered support.
"This is the first time we are doing the triathlon at this time of the year and we are building. We have the full commitment of Chris McCormack. We have the full commitment of Under Armour as the sponsor. We have the full commitment of Sponge Marketing as a sponsor. I can also say the full commitment of Nevis and when I say that, I can speak for the Tourism Authority," he said.