Men's issues will continue to receive NIA's attention, says Nevis Social Development Minister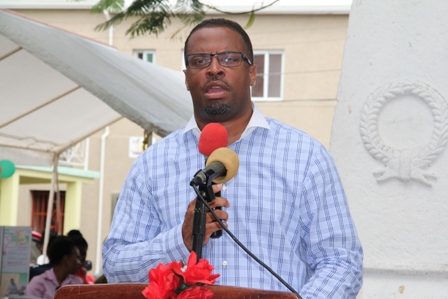 NIA CHARLESTOWN NEVIS (November 20, 2013) — The Nevis Island Administration (NIA) and scores of men on Nevis joined the rest of the world in celebration International Men's Day on November 19, 2013. At a health fair at the Memorial Square hosted by the Ministry of Social Development, Gender Affairs Unit to mark the occasion, Deputy Premier and Senior Social Development Minister Hon. Mark Brantley assured the island's men, that issues which affected them would continue to receive the Administration's attention.
The all-day event which offered, among others, free blood pressure and diabetes screenings, condom demonstrations and free healthy food samples, was held under the local theme "Boosting male life expectancy by keeping men and boys safe from avoidable illness and death".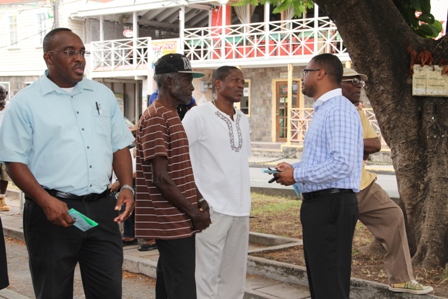 "We understand that as a government and as a people we're sending a very clear signal to the men, the male gender, that this government is with them and is prepared to support them and is prepared to take their issues on board as we seek together to create a more cohesive and a healthier society…
"Through the Ministry of Health we provide a variety of screenings. We provide a variety of forms of education for our men… I keep emphasizing that wherever I go, that the Ministry of Health provides the opportunity for us as a people, to take care of our health and take charge of our health," he said.
The Minister listed a number of available tests that were provided by the Administration through the Ministry of Health, among them prostate and colon screenings and general check-ups for hypertension and screenings for diabetes and blood pressure.
Mr. Brantley noted that it was customary for some men to think that the macho image did not involve medical check-ups, a thinking he said was wrong.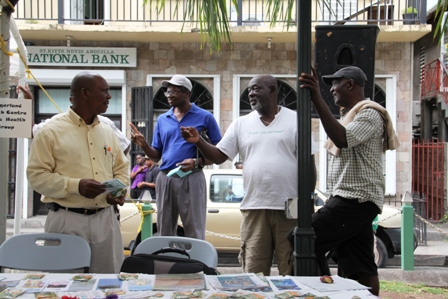 "It is for me always important to speak to men's issues because a lot of men, as I believe…do believe that they are invincible. Men tend to feel that to have a pain or to go to the doctor for a check up or to go and check on themselves, somehow, that's weak and that real men, macho men, don't do that kind of thing. I am here to say today that that is nonsense.
"All of us are human beings. All of us suffer from frailties. All of us suffer from illnesses and all of us, men and women, boys and girls, have an obligation to ensure that our health is in good order," he said.
The Health Minister also pointed to the men who over-consumed alcoholic beverages, the funds for which Mr. Brantley contended could be better placed if used for the purchase of health insurance.
"I want to say that in this very Square we come on Friday afternoons after a hard week's work. We drink 20 Guinness and that's considered to be macho but the cost of 20 Guinness at $5 each is $100 and if you were to take that same $100 you could buy health insurance to cover yourself and your family. You could take charge of your health and control what you eat, what you do," he said.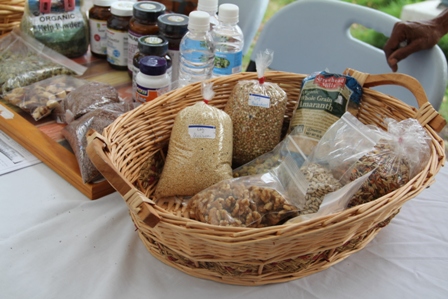 The Health Minister used the opportunity to urge the men and others in the Nevis community, to engage in exercise and to avoid risky behaviour, simple lifestyle changes which he stated could lead to longevity and a healthier life which in the end would save themselves, their families and community considerable sums of money.
"I continue to make that appeal wherever I go and whatever opportunity I get to tell all of our people, men, women, children alike, we have to take control of our health and do the things that we know we ought to do; eat right; exercise; avoid risky behaviour; avoid too much drinking; avoid smoking because I feel that at the end of the day we are all responsible for ourselves.
"We as a government continue to provide infrastructure. We continue to provide the services that we feel are critical for the Nevisian community and the Nevisian society but it is of no value providing those services, unless our people go out and access them and use them and that has been a perennial concern that a lot of our people simply do not avail themselves of the opportunities and the services that are available," he said.
Mr. Brantley used the opportunity to thank Junior Minister responsible for Social Development Hon. Hazel Brandy-Williams, for what he termed were her herculean efforts in the transformation of the Nevis society. He also thanked her support staff in the various departments of the Ministry.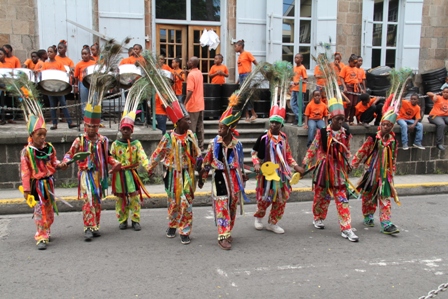 During the opening ceremony, Canon Ernest Flemming prayed for men and boys of the nation. The national anthem was delivered by Javier Pemberton while the introduction of the chairperson was done by Gender Affairs Officer Mrs. Shelly Jones-Liburd.
Gender Affairs Coordinator Ms. Lorraine Archibald gave an overview of International Men's Day and a poem entitled Phenomenal Man was rendered by Assistant Youth Ambassador for St. Kitts and Nevis Mario Philip. There was also a performance by Masquerades and the ceremony concluded with a Vote of Thanks from Mrs. Ivorcia Browne.