Minister Brantley concludes invitation programme to Japan with high-level meetings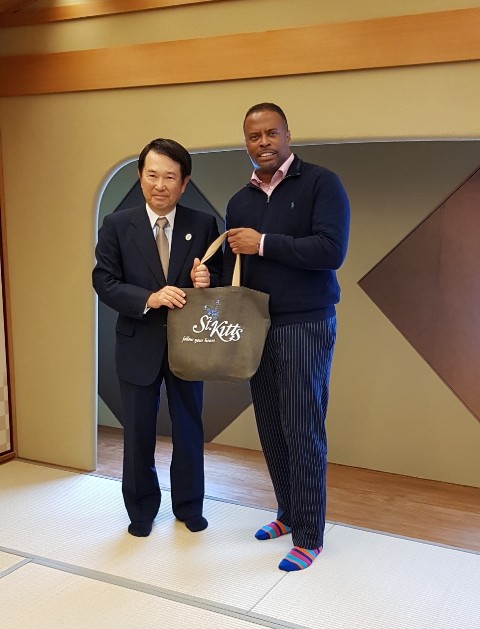 November 06, 2018 (Ministry of Foreign Affairs) —  Hon. Mark Brantley, Minister of Foreign Affairs and Aviation in St. Kitts and Nevis and his delegation, concluded the invitation programme to Japan on November 06, 2018, with high-level meetings with officials of the Osaka Prefecture Government.
During the discussion the Japanese officials referred to the Tourism Expo familiarization trip which was recently held in September, and brought together government officials from across the Caribbean with the aim of expanding Caribbean Tourism in Japan.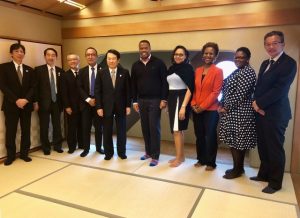 The Osaka officials also expressed a willingness to expand the people-to-people engagements and to work together to strengthen tourism between St. Kitts and Nevis and Japan, and also the wider Caribbean.
Mr. Brantley, highlighted the long-standing friendship between the two countries, and St. Kitts and Nevis' support to Japan on issues of common interest. He welcomed the opportunity for further engagement beyond the existing government relations.
The Foreign Affairs Minister also reiterated the importance of close collaboration on issues ranging from immigration to education.
Following the meeting, the delegation met with the Osaka Chamber of Commerce and Industry and other members of the private sector, to continue the dialogue on future investment opportunities in St. Kitts and Nevis.
Mr. Hiroshi Ozaki, Chairman of the Chamber explained that in an effort to encourage private sector partnerships between the two countries, Japanese investors would wish to explore investment opportunities in the Federation.
Minister Brantley welcomed the proposals and expressed the view that St. Kitts and Nevis is keen on expanding its tourism sector by moving beyond the traditional pool of visitors and investors, and invited the Chairman and his team of investors to visit the Federation in the near future.