Ministry of Social Development Honours Dianne Hobson for Contribution to Performing Arts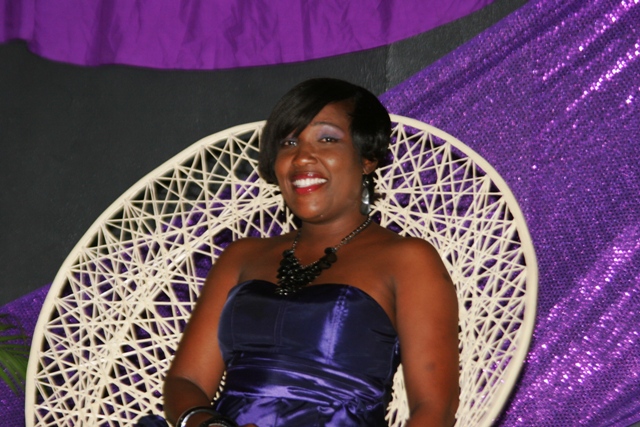 Honouree Ms. Dianne Hobson
NIA-CHARLESTOWN, NEVIS (MARCH 4TH, 2011) — Choreographer, chaperone, pageant judge, dancer and Artistic Manager at the Nevis Cultural Development Foundation, Ms. Dianne Hobson was the recipient of a recognition award for her "sterling contribution" to the performing arts.
At a ceremony held last week [Feb. 25], dance students; past and present coworkers; family members and friends of Ms. Hobson joined civil servants who gathered at the Nevis Cultural Centre to demonstrate their support of the honouree.
The awards ceremony, according to Director of Social Services Ms. Sandra Maynard formed part of her department's observance of the International Year of Youth and was the collaborative effort of the Nevis Island Administration's [NIA] Ministry and Department of Social Development.
"We want to promote our youth, promote their talents. We want to give recognition to all their hard work and dedication that they have shown in the country and I think the minister himself, seconded very strongly by the Department, felt that Ms. Hobson deserves this award," Ms. Maynard said.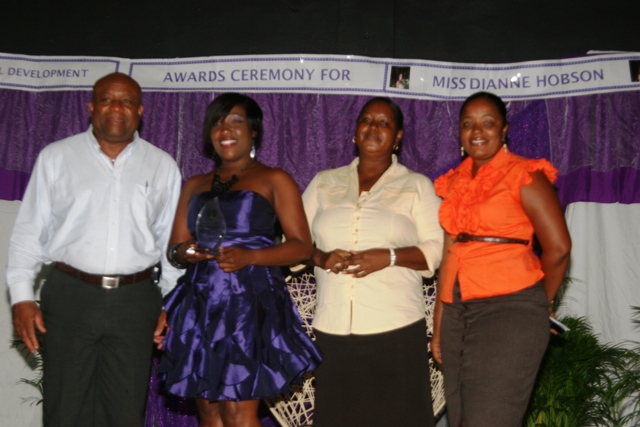 (l-r) Minister of Youth and Social Development the Honourable Hensley Daniel, honouree Ms. Dianne Hobson, Director of Social Services Ms. Sandra Maynard and Youth Officer Ms. Vieda Mills.
As a resident of Bath Village, Ms. Hobson had been actively involved in several community-based organisations and groups including the Oualie and Rhythmz Dance Theatres.
Ms. Hobson, according to her sister Ms. Sharon Hobson, is a "humourous, generous, intelligent, talented and endeavouring person" who "epitomizes determination, charisma and strength."
"Her down-to-earth personality has been a magnet to many of whom she has come in contact with. She has a love for dancing, reading, dramatising, sewing, teaching, choreography, karate, modeling and pageantry," Ms. S. Hobson added.
Dance student Mr. Shonroy Caesar, on behalf of the Rhythmz Dance Theatre, thanked the honouree for her "time, warmth, effort, care, words of encouragement and undying love" while Principal at the Charlestown Secondary School Mr. Edson Elliott said that although the honouree was no longer a member of his staff, she had continued to assist the institution with its annual house pageants.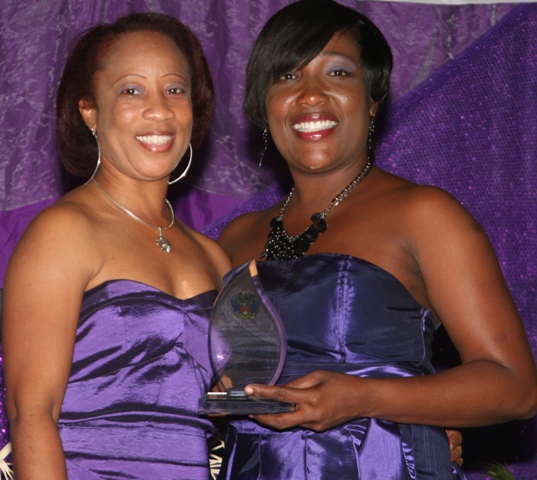 Ms. Sharon Hobson with her sister Ms. Dianne Hobson.
Ms. D. Hobson also received words of congratulations and encouragement from her brother Corporal Mitchell Hobson, nephew Mr. Sydney Hobson and friends Mrs. Shea Swanston-Wilkin, Ms. Marisa Liburd, Mr. Jermaine Arthurton and Mr. Tesean Wilkin.
The Honourable Hensley Daniel, who holds the post of Minister of Social Development and Youth, in the NIA, had known the honouree for many years. He underscored that she was "on the right path" and encouraged her to "continue in that vein."
Realising the "negative, deficit language associated with the development of young people," Minister Daniel said the awards ceremony was intended to change people's thoughts toward the youth population and "point young people in a direction where their achievements can be celebrated."
In her response, the honouree said she was "overwhelmed with emotions of joy, pride and excitement."
"I am honoured to be the recipient of this award and it gives me a sense of pride knowing that my efforts and achievements are recognised and appreciated," Ms. D. Hobson said as she recorded her gratitude to her "sources of inspiration, friends, family members and supporters."
Ms. Hobson's involvement in the field of pageantry led her to capture the Miss Culture and Miss CUEA queen titles in Nevis in 1997 and St. Vincent in 2000 respectively.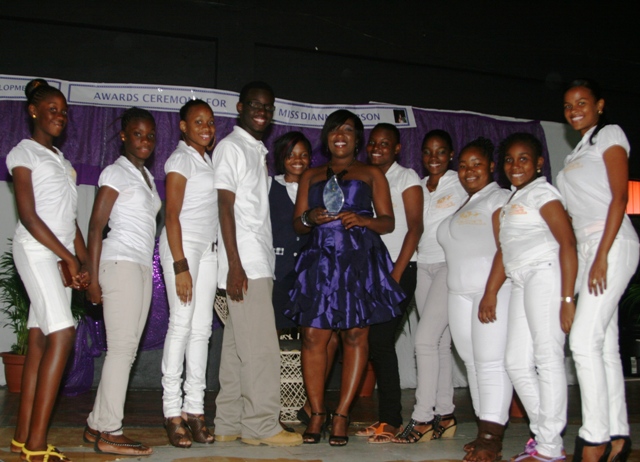 Honouree Ms. Dianne Hobson with members of the Rhythmz Dance Theatre.
Similarly, her work as a "prominent chaperone" led to her contestants' successes in the Miss Culture, Miss Gingerama, Miss Petit, Miss Charlestown Secondary School, Miss Nevis Reformation Party, Mr. and Miss Talented Youth, Miss National Carnival and the Miss Caribbean Culture Pageants.
With 14 years dedicated to teaching dance and being a mentor for her students, Ms. Hobson's award was deemed as timely by the speakers.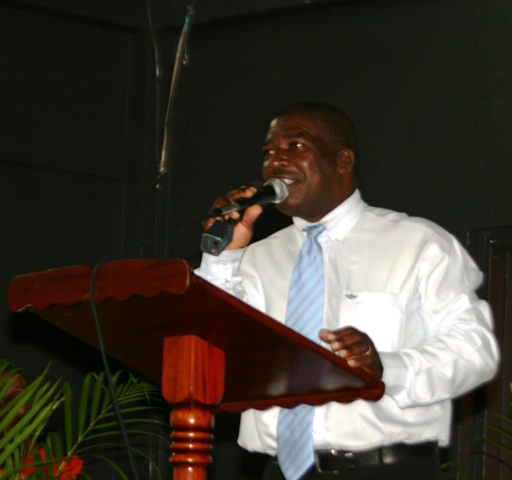 Principal of the Charlestown Secondary School Mr. Edson Elliott.