Mr. Leon Michael is Top Constable in Nevis for second time in six years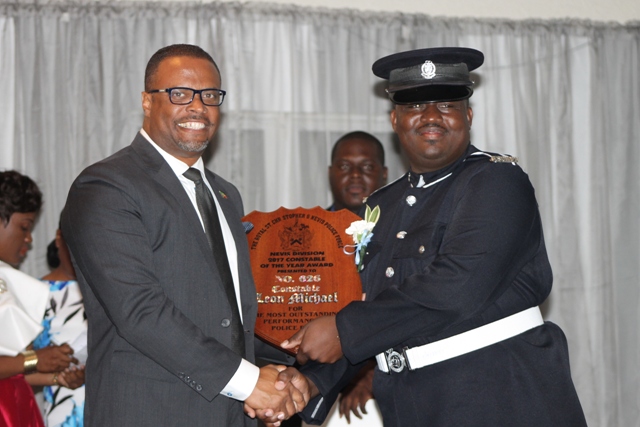 NIA CHARLESTOWN NEVIS (March 14, 2018) — Mr. Leon Michael, Constable No. 626 of the Court and Process Unit for the second time in six years, beat nine nominees to win the coveted 2017 Constable of the Year award in the Royal St. Christopher and Nevis Police Force, Nevis Division.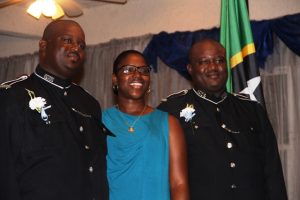 The announcement was made at the Strategic Planning Group's 18th Constables' Award Ceremony and Dinner on March 10, 2018 at the Occasion's Entertainment Arcade at Pinney's Estate. The event was a collaboration with the Nevis Island Administration with the theme "Proactive Policing through community involvement".
An overwhelmed Constable Michael who was presented with his award by Hon. Mark Brantley, Premier of Nevis and Minister responsible for Security, thanked God for the achievement. He urged fellow nominees to continue to do their best.
"Let us not be discouraged as we all are Constables of the Year. Let us continue to put our best foot forward and continue to work to the best of our ability in serving the citizens and visitors of this great nation of ours" he said.
The Top Constable attributed his win to hard work and family support and used the opportunity to publicly thank them.
"It is with great honour and pride that I accept this prestigious award. It is through hard work and dedication why I am here tonight.
"Thanks to my mom for all she has done for me during my lifetime and as I stand with this award, I know her heart is filled with joy as she has her two sons here tonight being nominated for this ceremony. I dare not forget my father who continues to play an important role in my life," he said.
Constable Michael also thanked Resident Judge Her Honour Pearletta Lanns who he said encouraged him to continue pushing forward and to strive for the best and his retired supervisor Sergeant James Hazel for his support and encouragement.
The awards dinner is an annual event staged by the Strategic Planning Group in the Nevis Division to reward the junior officers for their outstanding work.
The other nominees were his twin brother Constable Cleon Michael of the Criminal Investigation Department, Constables Shayne James of the Cotton Ground Police Station, Constable Keith Pemberton of the Newcastle Police Station, Constable Gleason Burke of the Violent Crime Unit, Constable Kerran Nicholas of the Task Force Unit, Constables Rondell Harvey and Kennedy Stevens of the Beat and Patrol Department, Constable Asif Rohoman of the Gingerland Police Station and Woman Special Police Constable Cherice Williams in the Traffic Department.