Premier Brantley meets with SKNCIC Nevis Chapter executives; calls for greater partnership with NIA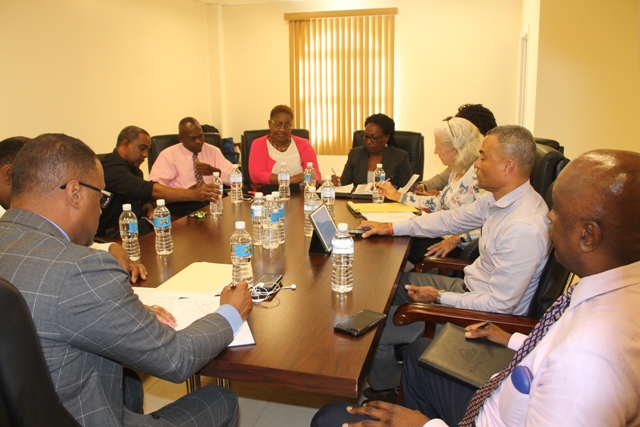 NIA CHARLESTOWN NEVIS (March 14, 2018) — In what was described as a forum to assess the needs of the Private Sector on Nevis, Hon. Mark Brantley, Premier of Nevis and Minister of Finance told members of the Nevis Chapter of the St. Kitts and Nevis Chamber of Industry and Commerce (SKNCIC), that there should be greater partnership with the Nevis Island Administration (NIA).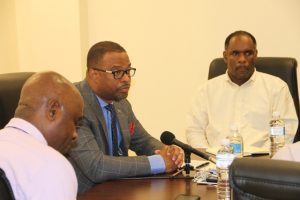 Premier Brantley made the call at his first meeting with the SKNCIC Nevis Chapter executives at his Pinney's Estate conference room on March 13, 2018, to assess their needs and that of the Administration.
"We feel that the government has done quite a bit in terms of injecting resources into the economy in terms of infrastructure and other developments and so, now we feel that the private sector, we hope, can take now some of that responsibility off of the government's shoulders.
"The government will continue to do its part but the hope is that the private sector could be stimulated that it can take some of the slack so to speak," he said.
The Premier, noted that he looked forward to ongoing dialogue with the private sector as the Administration tries to understand what their needs are and how it can assist as they try to have an honest and sober assessment of where the government is and also what its needs are.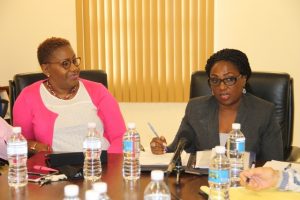 He stated that the business sector on Nevis depended to a great extent on its partnership with government depends on a robust business sector if they are to advance in any meaningful way.
Mr. Brantley was accompanied at the meeting by Mr. Stedmond Tross, Cabinet Secretary and Special Advisor to the NIA, Mr. Colin Dore, Permanent secretary in the Ministry of Finance and Mr. Jervan Swanston, Acting manager of the Nevis Electricity Company Limited.
Meantime, Ms. Patricia Claxton Chairman of the Chamber's Nevis Chapter used the opportunity to congratulate Mr. Brantley on his new position as Premier and expressed hope that understanding would prevail during the meeting.
She was accompanied by Ms. Alice Tyson, Vice Chairman; Mrs. Gillian Hobson-Hector, Treasurer; Ms. Deborah Lellouche Executive Secretary; Mr. Ernie France Immediate Past Chairman and Mr. Wayne Heyliger, member.