Multi-purpose facility at Market Shop in Gingerland to officially open, named November 28
NIA CHARLESTOWN NEVIS (November 05, 2019) — Hon. Eric Evelyn, Minister of Culture in the Nevis Island Administration, announced that the multi-purpose facility under construction at Market Shop in Gingerland will be ready for the official opening and naming on November 28, 2019.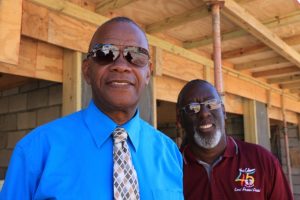 Mr. Evelyn, who is also the Minister of Social Development and the Area Representative for the Parish of St. George's, made the announcement when he visited the construction site on October 30, 2019, as he expressed satisfaction with the work there.
"I am extremely happy. I am actually overwhelmed with the progress that has taken place here at the festival site in Gingerland since we last met here…We have contractors here and I am very impressed with the level of commitment from them because we would have told them that the site has to be ready in time for the hosting of Gingerama 2019…
"The facility will be ready on time for the hosting of the Gingerama festival. Gingerama is expected to run from November 28th until December 1st and we will be having a grand opening of the facility and the opening of Gingerama on November 28th,"he said.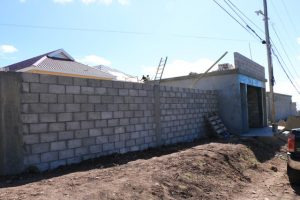 The Minister noted that the contractors had given a commitment that the facility would be ready on time. He expressed satisfaction with their steady pace of work to keep the commitment.
Mr. Evelyn urged the public to be a part of the grand opening as the administration welcomes the brand new facility.
Meantime, the Minister used the opportunity to commend Mr. Antonio "Abonaty" Liburd for his role on the project as Project Manager.
"I must say that I am exceptionally proud of the Project Manager Mr. Antonio "Abonaty" Liburd…I've seen what he has been doing over the past weeks and months. The level of supervision that has been given to this project, and the way he operates, it's almost like a trained contractor or an engineer.
"I must say I am very, very impressed with 'Abo,' and I believe that a lot of what we have achieved here is because of the push that has been coming from him," he said.