Nevis Administration lauded for standing by geothermal project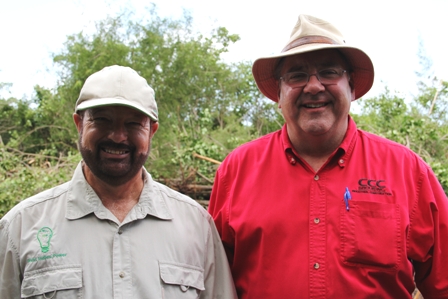 Chief Executive officer of geothermal developers on Nevis Mr. Kerry McDonald and Project Coordinator with CCC Group Inc. based in San Antonio Texas Mr. Carter LaBarge clearing the land at Spring Hill
NIA-CHARLESTOWN NEVIS (July 26, 2011) —
The Nevis Island Administration (NIA) continued to be lauded for its spirited efforts which made known the story of geothermal to the people of Nevis and standing by the project which commenced four years ago. The commendation came from a top official of geothermal developers on Nevis West Indies Power.
Chief Executive Officer Mr. Kerry McDonald praise the Administration on Monday as clearing works commenced on 40 acres of land at Nevis 1 in Springhill. The area will become the home of the geothermal power plant that would harness renewable energy, reduce Nevis' dependency on fossil fuels and revolutionise the island's economy.
"We certainly would like to thank the Nevis Island Administration for all of its help and particularly all of its assistance in making the story of geothermal known to the people of Nevis and for taking the steps to allow for this very inexpensive source of power to be put here on Nevis that will certainly change the economy of Nevis as well as the Caribbean in fact," he said.
According, to Mr. McDonald, the project had commenced in 2007 and four years later they had finally arrived at the construction stage. However, he hastened to add that the project was well within the normal time range for a geothermal power plant to be brought into production, since it was not uncommon to take between five and seven years in other parts of the world.
He explained that once land clearing of the 40 of 79 acres allotted to the project was completed geotechnical work will commence and the drill rig will be brought to the site by the end of August early September.
"They will then commence to drill the actual production hole which should take somewhere between 30-45 days per hole.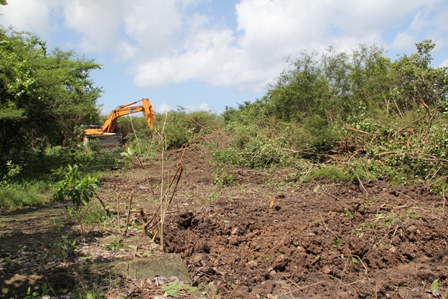 Land clearing equipment clearing the 40 acres of land for ahead of construction works for the geothermal power plant at Nevis I in Spring Hill
"Toward the end of the fourth quarter we will be bringing in the actual plant equipment to begin installation in the first quarter of 2012 and it's our anticipation and schedules that the geothermal power plant will be in operation by the fourth quarter of 2012 and be producing the power for Nevis," he said.
Also present was Project Coordinator with CCC Group Inc. based in San Antonio Texas Mr. Carter LaBarge, whose company will survey the site and carry out the geotechnical and engineering work ahead of construction.
"There is a lot of work to be done and this is the first step on a journey that has been waited on for a long time. So we are glad to be here." Mr. LaBarge said.