Nevis Agriculture stakeholders get better understanding of budgeting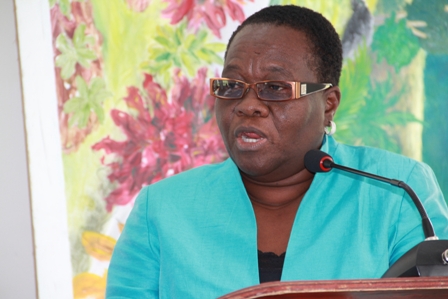 NIA CHARLESTOWN NEVIS (JULY 18, 2012) —
Stakeholders throughout the agriculture industry on Nevis, now have a better understanding of how to prepare and execute a budget. The opportunity came at a two day workshop from July 12-13th, 2012 conducted by the Caribbean Agricultural Research and Development Institute (CARDI), in collaboration with the Department of Agriculture in the Nevis Island Administration (NIA).
The workshop was held at the Department's conference room at Prospect with facilitator Chicago based Doctor of Economics Peter Van Blokland, also a former professor at the University of Florida.
CARDI's Country Team Leader Ms. Pathleen Titus in brief remarks explained that agri-business was very important and good for those involved in agriculture whether part or full time should look at farming as a business and know how to manage it.
"The importance of budgeting will come out in this workshop hopefully and one thing we always talk about is the cost of food everywhere and we always accuse the farmer, more times rightfully so, of overpricing and the farmer would go to the supermarket and look at the prices and maybe price accordingly.
So we are hoping with some assistance you would be able to give the correct price for your product, how much it cost you to produce it, what is your mark up, what you should charge and hopefully we will have a reduction in the cost of food, hopefully. So then you would have an accurate price for meat, fish vegetables [or] whatever," she said.
Ms. Titus, CARDI also noted that CARDI always supported the Department of Agriculture in the execution of its work programme and that the organisation had a Memorandum of Understanding with the Florida Association for Volunteer Action in the Caribbean and the Americas (FAVACA), who had provided the facilitator.
"I don't know how many of you would remember but this is the 4th FAVACA person coming to the Federation to execute courses. We had something with IPM on cabbage; we had sweet potato weevil control and we also had green house management. So FAVACA is always willing to send someone to assist us in training," she said.
According to Ms. Titus, a similar workshop was held for stakeholders in St. Kitts and the participants were pleased with the knowledge they had gained with the hope of implementing it in their businesses.
She also noted that the Extension Officers from the Department of Agriculture who were present at the workshop would act as trainers to assist with passing on the knowledge in the future since it was important for farmers to have the correct pricing which would ultimately benefit the consumers.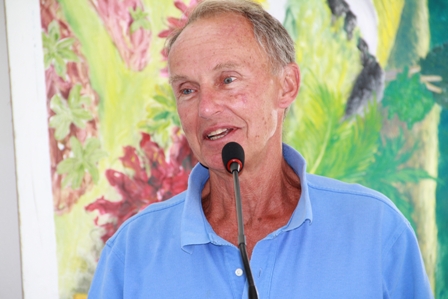 Meantime, in an extremely brief overview of the workshop Dr.Van Blokland who was trained at the University of the West Indies St. Augustine Campus then named the Imperial School of Tropical Agriculture said he had developed a template on budgeting which he planned to pass on to the participants.
"Years ago I developed a template to show what each contribution is and by doing this I dropped a couple enterprises and added another one. If this was advertised as budgeting it wouldn't sound too sexy would it? No one cares about budgeting but in polite words it is really what we are going to do," he said.
Dr.Van Blokland had farmed in Africa and Europe and according to Agriculture officials had vast experience with several crops.