Nevis commemorates Remembrance Day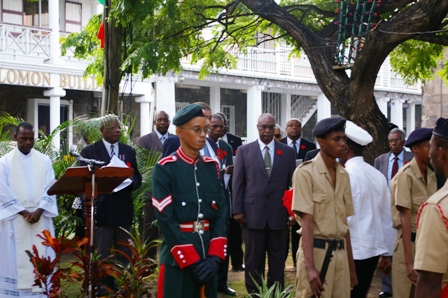 Premier Parry at the center of the Remembrance Service
(CHARLESTOWN, NEVIS–MONDAY, NOVEMBER 15TH, 2010) — Nevis remembered its Nationals who served in World War I and II during the traditional National Day of Remembrance Interdenominational Service at the Memorial square in Charlestown on Sunday morning.

The service commenced at 8am with two minutes of silence that was signaled by the firing of a gun. The commemoration service was conducted by Father Ernest Flemming of the Nevis Christian Council.
Scores of school children, civil servants and residents of Nevis stood on the sidewalk surrounding the Memorial Square wearing their red poppies and standing at attention for the playing of "The Last Post".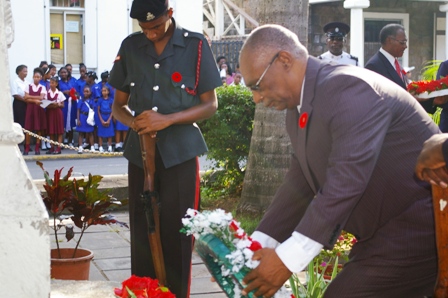 Premier Parry laying a wreath
During the service, there were readings from the Bible, singing of hymns and the names of the men of St. Kitts, Nevis and Anguilla who gave their lives were read aloud.
After the service, wreaths were laid beginning with the Deputy Governor General, his honour, Mr. Eustace John, the Premier of Nevis, Hon. Joseph Parry other government officials and members of Nevis' uniformed bodies.
The commemoration came to a close with a rendition of the National Anthem followed by a very moving and colourful march past of the uniformed bodies around the Square and along Main Street, Charlestown.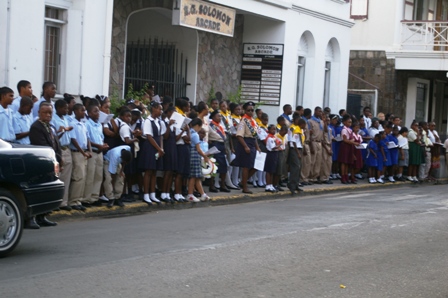 Residents watching the service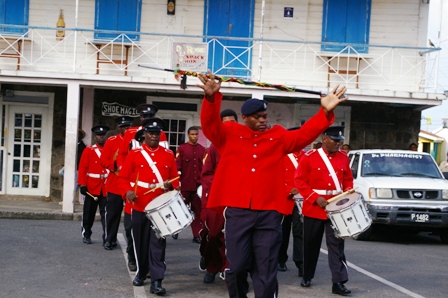 Marching band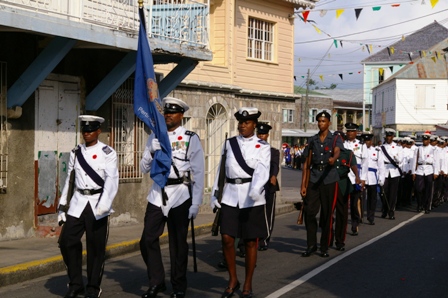 St.Christopher and Nevis Police Force followed by Nevis' uniformed bodies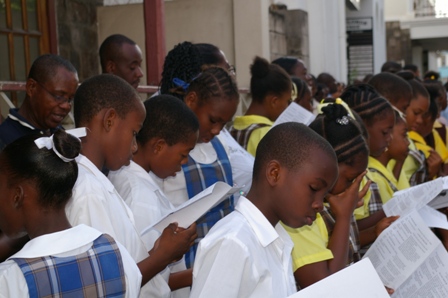 School children singing during the service