Nevis contributing positively to global fight against HIV/AIDS, says Health Minister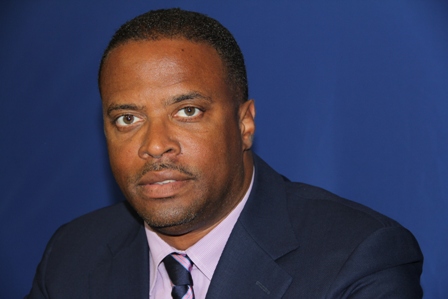 NIA CHARLESTOWN NEVIS (December 03, 2013) — Nevis has contributed positively to the attainment of Millennium Development Goal 6. That view was expressed by Deputy Premier of Nevis and Minister of Health Hon. Mark Brantley, when he delivered an address on local television on December 02, 2013 one day after the official annual internationally-observed World AIDS Day.
Goal 6, Mr. Brantley stated, spoke to combating HIV/AIDS and other diseases by 2015. The Minister thanked all local, regional and international partners who continued to work with health providers on Nevis to ensure the provision of what he termed quality education, treatment and care programmes.
"Nevis continues to play its part in contributing to the goal of zero AIDS-related deaths worldwide. HIV testing services in the form of Voluntary Counselling and Testing (VCT) encourage persons to know their status and can result in early detection of the disease which facilitates early entry into treatment and care and thus longer survival rates.
"Between 2011 and 2012, a total of 436 tests were completed through this medium. It is our intention to increase the number of HIV tests done in 2014 by at least 25 percent through the use of this strategy as well as other testing services. With the near successful elimination of mother- to-child transmission of HIV to date, Nevis has contributed positively to the attainment of Millennium Development Goal 6 which speaks to combating of HIV/AIDS and other diseases by 2015," he said.
Notwithstanding, the Health Minister stressed that the onus remained on each individual to take responsibility for his or her sexual health.
"The onus is on all of us to take responsibility for our sexual health and reduce the likelihood of contracting HIV. As we get to the heart of the festive season, in addition to wishing you a bright and prosperous New Year, I remind you that the nation's prosperity is linked to its health and thus its wealth.
"It is therefore important that you remain healthy. Use condoms each and every time you engage in sex. Get tested for HIV/AIDS. We encourage you to access more information on HIV/AIDS by visiting the Health Promotion Unit or one of the six health centres on the island. We cannot get to zero without the active participation of you the citizens and residents of this great nation," he said.
Mr. Brantley also used the opportunity to speak to the continued prevention and education activities at the island's health facilities, schools, work places and in communities which had adopted a multipronged approach to HIV/AIDS prevention. They included the delivery of messages centred on abstinence, protected sex including the use of male and female condoms, as well as faithfulness to a single sexual partner.
"These prevention initiatives will undoubtedly contribute to a reduction in the number of cases of HIV diagnosed over the next several years.
"The average annual incidence between the years of 2008 to 2012 has been two. While this number is not zero, the years 2010 and 2012 did see a record of zero cases. It is our intention to have zero positive results going forward in consecutive years. This goal remains a possibility through heightened educational activities particularly with the youth," he said.
Meantime, the Health Minister also referred to the matter of stigma and discrimination against persons who were living with HIV/AIDS and their families.
"It is anticipated that as we continue our work in educating the populace on the importance of human rights and health, that we will attain some success in reaching the goal of zero discrimination by 2015," he said.