Nevis Education Official expresses confidence in OAS sponsored Anger Management/Conflict Resolution Programme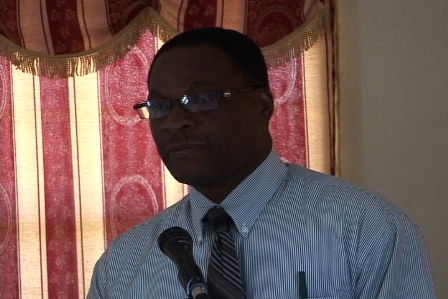 Permanent Secretary in the Ministry of Education on Nevis Mr. Joseph Wiltshire
CHARLESTOWN NEVIS (October 11, 2010) — Permanent Secretary in the Ministry of Education Mr. Joseph Wiltshire expressed confidence that the knowledge and skills passed on to Nevis' teachers and Guidance Counsellors at the five-session Organisation of American States (OAS) sponsored Anger Management and Conflict Resolution Programme, would enable them to contribute to the development of a gentler and more tolerant society.
Mr. Wiltshire, who represented Premier of Nevis and Minister of Education Hon. Joseph Parry, at the launch of the Programme at the Red Cross Conference Room on Monday, urged the participants to take advantage of the opportunity provided to them to assist with anger management and conflict resolution on the island.
He said it was well known the problems Nevis faced as a direct result of the inability of the island's young people, in particular boys, to control their anger. Mr. Wiltshire noted that Literature as well as the consensus of opinion seemed to suggest that training could provide the tool to cure what he considered to be society's most debilitating ill.
"We have assembled here this morning to give credence to the statement that preparation and training are necessary in all spheres of human endeavour if optimum results are to be achieved. Therefore the Organization of American States sponsored workshops are both important and timely," he said.
The Permanent Secretary said the Nevis Island Administration was pleased with the Organization of American States (OAS) partnership with St. Kitts and Nevis especially as the Administration had set out to train, develop and maximise the people of Nevis, who were the island's most important resource.
According to Mr. Wiltshire, the course outline indicated that on conclusion of the training sessions, the handbook Managing Anger Resolving Conflicts used during the sessions, would become a resource text for the secondary schools curriculum and would be used by students, teachers and guidance counsellors.
He added that Anger Management would serve as a long term subject in secondary schools. Parents and guardians would be provided with information on how they could support the schools so that what was taught could be re-enforced at home.
The Education Official also said that students who moved into secondary school would be sensitised at an early stage to the issues of Anger Management and Impulse Control and teachers and Guidance Counsellors would also be sensitised and assisted in paying greater attention to Emotional Literacy, which would greatly enhance their understanding of violence, anger and "acting out" behaviour.
Also present at the launch was Principal Education Officer in the Ministry of Education on Nevis Mrs. Lornette Queeley Connor.