Nevis farmers urged to utilise CARDI's findings in agriculture development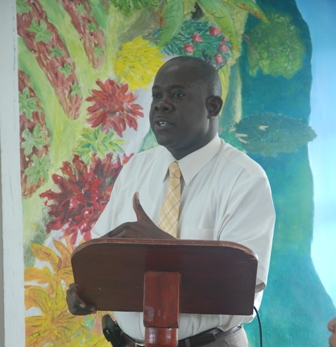 CHARLESTOWN NEVIS (JULY 24, 2012) —
Minister of Agriculture in the Nevis Island Administration Hon. Robelto Hector urged farmers on Nevis to utilise the results of the Caribbean Agriculture Research and Development Institute's (CARDI) experiments with sweet potato, cabbage and hot peppers.
Mr. Hector was at the time delivering remarks at a brief opening ceremony for a one day seminar on July 20th 2012, at Prospect organised by the CARDI office based in St. Kitts. The event was an effort to share with agriculture stakeholders the Institute's findings and how they could best be used by farmers.
"Research when it is completed should not be a secret and the advances that we have had in agricultural production, came about as a result of proper research. I know too many times farmers are not concerned about research, they are concerned about results.
"My advice to you is if you are going to be a farmer that survives what is happening now and the challenges we are having, you must understand the research and you must be able to move it from where the researcher has it to your farm where you are going to have increased production," he said.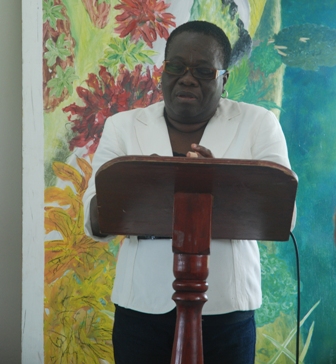 The Minister, a former Extension Officer, reminded the Extension Officers present that they were agents of change and the onus was on them to convince the farmers to utilise CARDI's research findings that would increase production.
"Agricultural Officers you are agents of change and many times you would have to interface with the farmer. In the old days what we use to do as extension officers, we use to ask for a plot so that we could demonstrate to you [farmers] the level of technology and that we could bring about change. I am not proposing that you do the same; you would have to have your own unique way in getting that research across to your farmers.
"If you can't convince your farmers of the level of research that comes from CARDI as researchers, it is a case whereby our production would be low. So I want you Farmers, Extension Officers and students to pay attention. The crops that are mentioned, these are not to be secrets of CARDI or the Department, they should be widely used by farmers and they should be pushed by Extension Officers," he said.
Meantime, Country Leader for CARDI's St. Kitts and Nevis Office Ms. Pathleen Titus who led an office team to Nevis explained that the seminar was designed to acquaint farmers and extensions with the research findings.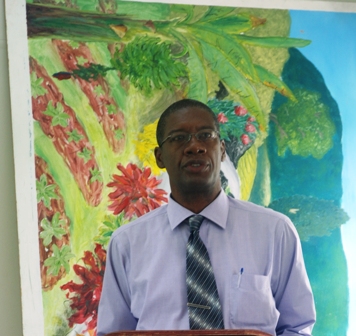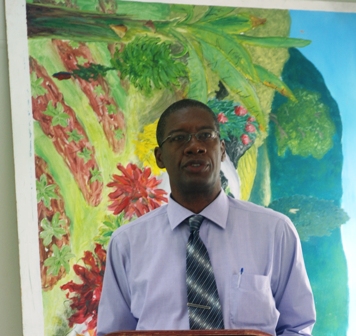 "We want to share with you what we have been doing and hope that it will assist in development in lowering your production cost. Some of it, you will see, is cost effective for the farmer and basically that's what we want to do, share the research results. We hope that you adopt it and go ahead with the business of farming.
"Some of the work we [CARDI] did on farms [and] yes we would also like to continue working with farmers. Seeing by doing, the farmers would probably believe more if they see it on their farm. Some of the work was done on our station and the farmers still didn't see because a lot of people don't come out to see what is going on but when we work with you, the results are much more effective," she said.
Director of Agriculture on Nevis Mr. Keithley Amory, in his remarks acknowledged that CARDI had been working with the Department for many years in various aspects of food production and spoke to one of their most recent collaborations.
"Quite recently they have been working with the sweet potato production with a forage bank development here on Nevis and today the CARDI representative will be showing us some of those results that they have achieved both in St. Kitts and Nevis and also to try and continue encouraging us to get more farmers on board with these experimentations.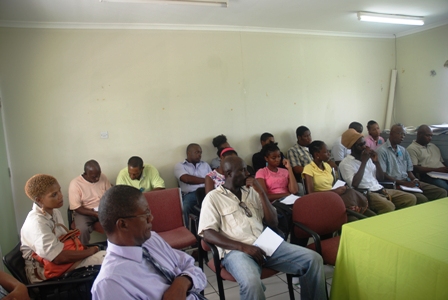 "These experimentations are not just for the Agriculture Department, what we really want to do is to get more farmers involved in these experimentations because ultimately, the farmers will be the ones who will be benefiting from them," he said.
Mr. Amory also noted that in the past, farmers would allow those experimentations to be carried out on their farms in order to compare their methods with that of CARDI.
However, he expressed hope that at the end of the seminar the younger farmers would decide whether they would like to have those experiments them done on their farms to have a fair idea of what was taking place in the development of agriculture in St. Kitts and Nevis.