Nevis Gender Affairs Division takes aim at gender-based issues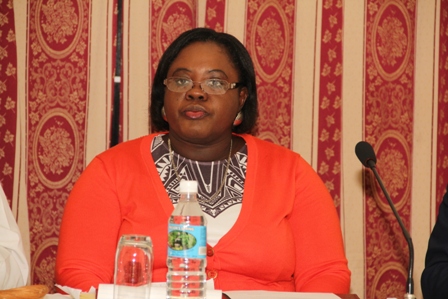 NIA CHARLESTOWN NEVIS (November 13, 2013) — In its continuing efforts to root out domestic violence against women and children on Nevis, the Nevis Island Administration (NIA) issued an appeal to men and boys of Nevis to change their behaviour against women and children.
The appeal came from Junior Minister of Gender Affairs in the NIA Mrs. Hazel Brandy-Williams, when she made a presentation at a town hall meeting hosted by the NIA on November 07, 2013, at the Red Cross conference room on Chapel Street.
"We continue to champion our cause and to fight against domestic violence against women and children. We are appealing to our men and boys but we have to appeal to the men first because their behaviour is what will suggest how our boys will behave," she said.
Meantime, the Minister noted that the Genders Affairs Division's view on gender based issues was changing its perspective.
"In the past, gender was perceived as just looking at women's issues but we are changing that stigma and we are looking at men's issues as well. As a matter of fact, on the 19th of this month [November] is International Men's Day and we have an all-day fair in the Square where you can come and check your health. Please feel free to come.
"I know men are very particular. I know they probably wouldn't want to come to the Square and roll up their sleeves to check their pressure or do blood tests but we're asking that you lead by example and you should walk with your sons as well. Once your sons would see you taking care of your health, they in turn will do the same thing," she said.
A FIT Wellness walk is also planned for November 23, 2013. It will commence at 5a.m from the Memorial Square in Charlestown.