Nevis Government assists Police mobile crime fighting efforts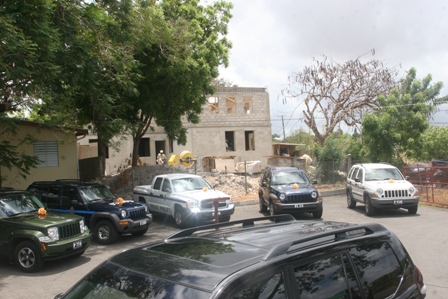 Five new vehicles were handed over to the Police
(CHARLESTOWN,NEVIS–Wednesday, April 14, 2010) Five new vehicles were handed over to the Police on Nevis by Premier of Nevis Hon. Joseph Parry. This was done as the Nevis Island Administration (NIA) continued its efforts to fight crime on Nevis. The momentous occasion took place on the grounds of the Bath Hotel on Monday morning.
Mr. Parry said his Administration would do all it could, in order maintain peace and stability to Nevis. He went on to say that in recent times many had been affected by the upsurge in crime in the country.
"This government will do what it has to do to ensure the safety of life and property of all citizens and this donation of police cars will assist in the patrolling of the island, in an effort to keep crime to a minimum," commented the Premier.
He acknowledged that money and resources invested in the police did not automatically translate into victory against crime. However, he held the view that without that investment, the police would not have the necessary means with which to succeed.
During the Premiers brief remarks, he informed the general public that the cost of the vehicles was EC$200,000 and according to him, there was a substantial amount left to be paid on the vehicles.
"I am appealing to the public to lend a hand with the gaining of funds in order to pay for the cars and in return this would help our community to aid in the fight against crime," said Mr. Parry.
The Premier added that he had directed the Police to take back the streets, through increased police patrols in popular and business areas, the establishment of a task force to deal with known criminals and increased police visibility on the streets.
Meanwhile, Police Commissioner, Mr. Austin Williams thanked Premier Parry and the Nevis Island Administration for the new vehicles. He said that he and his colleagues made the appeal for police cars for some time and he was pleased that the Administration had given not one but five police cars that would assist the Police in the execution of their duties.