Nevis Government gives firm commitment to growth of local Financial Services Sector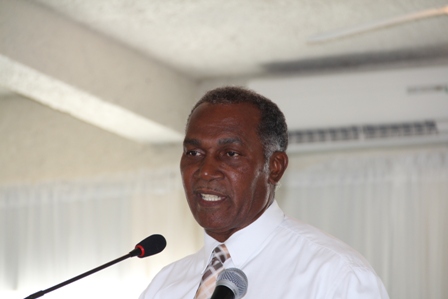 NIA CHARLESTOWN NEVIS (April 11, 2013) —
Premier of Nevis and Minister of Finance in the Nevis Island Administration (NIA) Hon. Vance Amory, assured service providers in the jurisdiction, that his Government was firmly committed to the growth and development of the Financial Services Sector on Nevis, despite challenges in the global financial industry.
Mr. Amory's commitment came when he delivered remarks at the opening of a two-day Nevis Financial Services Regulation and Supervision Department 2013 AMI/CFT Awareness Seminar and Training Workshop, on April 11, 2013, at the Occasions Conference Centre at Pinneys with the theme "Accountability! Vigilance! – Hallmarks of Compliance".
"It is our intention to upgrade the Regulation Department to more effectively carry out its mandate. We will also pass the Nevis Service providers ordinance to consolidate existing regulations and tighten the regulatory infrastructure; modernize the computer technology at the Registry to provide dedicated online access and registration to service providers.
"We will work closely with the Service Providers to develop a marketing strategy for the financial services sector focusing on new areas of growth and new approaches to marketing. We will selectively target the big players in the industry and offer them incentives to establish a presence in Nevis," he said.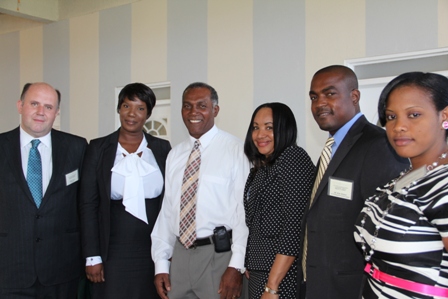 Mr. Amory noted that over time, his Administration would put forward a more comprehensive strategy as it directed the Sector on a new course.
The Finance Minister further noted that the workshop was intended to be interactive and engaging so that the NIA could garner ideas that would cope with the challenges that confronted the jurisdiction.
"The Government does not have all of the answers but by working together in partnership we can create a spring board for ideas and develop the confidence and wisdom to move Nevis forward despite the increasing turbulence that endangers our pathway.
"Our ability to withstand the vagaries of the global financial industry will depend on our resolve to combat the vices of money laundering, terrorist financing, tax evasion and other financial crimes. The best possible defence is to embrace the changes and create a culture of compliance that could withstand the test of time," he said.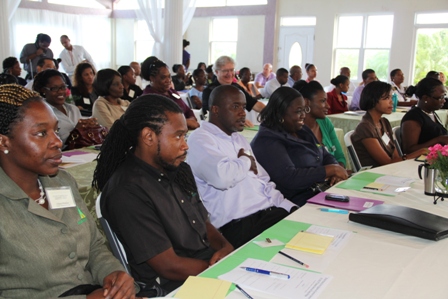 Mr. Amory warned that it was not business as usual and persons involved in the Sector on Nevis had the important responsibility to participate fully in the Workshop and to return to their respective organisations re-energised and reinvigorated to become the agents of change.
Managing Director of KAW Management Services Ltd. of Antigua Mr. Kem Warner will facilitate the training workshop. He is a certified Banker and holds a FICB designation and an International Certificate in trust Management (STEP). Mr. Warner is also a Certified Fraud Examiner (CFE) and a Certified Anti-Money laundering Specialist (CAMS) as well as a Certified CAMS Instructor for the Association of Certified Anti-Money Laundering Specialists (ACAMS).