Nevis Government to continue housing development thrust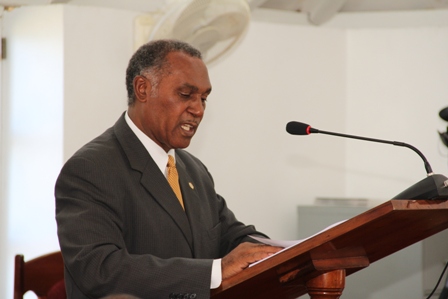 NIA CHARLESTOWN NEVIS (December 19, 2013) –The Nevis Island Administration plans to continue its housing development thrust in 2014 with the construction of more homes.
Premier of Nevis and Minister of Finance Hon. Vance Amory made the disclosure when he presented the Administration's 2014 Budget at a sitting of the Nevis Island Assembly on December 18, 2013.
"During 2014, we will continue the housing development thrust with the construction of over 100 homes. Nine acres of land are presently being cleared at Colquohoun, St. Thomas, to create 52 lots for the construction of homes. In addition, an acre of land consisting of seven lots will be made available to housing applicants in Nisbett Settlement, St. James Parish; one acre with another seven (lots) in Hard Times, Gingerland and two acres of land with 15 lots in Hamilton.
"We are also negotiating the purchase of lands in Bath Village to construct six (6) houses in an effort to stimulate development in that area and similarly, we are negotiating the purchase of two acres of land in Hanley's Road for the construction of houses in that area as well. We continue to receive requests from individuals to build on land already owned and thus we have projected to build 12 of these homes in 2014," he said.
Notwithstanding, the Finance Minister acknowledged that the Concerned Citizens Movement led-Administration was continuing the housing revolution which was initiated by its predecessors through the Nevis Housing and Land Development Corporation (NHLDC).
He noted that his Administration had injected $3.48 million for the construction of 19 affordable homes in 2013 of which 10 had already been completed at a cost of $1.47 million. The remaining nine houses were under construction at Maddens, Prospect, Colquohouns and Potworks at a cost of $2.01 million.
"These include new and improved designs introduced by my government namely the Sparrow, Hibiscus and Angel Eyes which are superior in quality to those built in the past.
"Some of the houses have also been constructed on land owned by the applicants. Pictures of the new designs can be viewed on the NHLDC website," he said.
According to Premier Amory, the NIA also planned to enter the high-end market in partnership with private developers.
"In our quest to stimulate growth, we would also enter the high end of the market. This will be done in partnership with private developers to reduce the burden on government and avoid direct competition with the private sector.
"In this regard, we have earmarked 11 acres of lands at Spring Hill, bordering Garner's Estate, for high-end residential purposes. This development is projected to start in 2014," he said.
The Finance Minister also used the opportunity to address those affordable home owners who were delinquent on their loans from the NHLDC, which he said had become a cause for concern to the Administration, and urged them to pay up.
"Presently, the arrears for land, leases and houses total $0.89 million. Of note, there are 75 persons paying for homes through the Corporation at a total portfolio of $12.25 million of which 29 are delinquent with arrears of $695,606.62.
"I want to make an appeal to all the delinquent persons to make a special effort to update their loans. This is important to ensure that the NHLDC has the resources to continue the housing programme which is such a vital component of our development agenda," he said.