Nevis Health Minister leads delegation to Guyana on study tour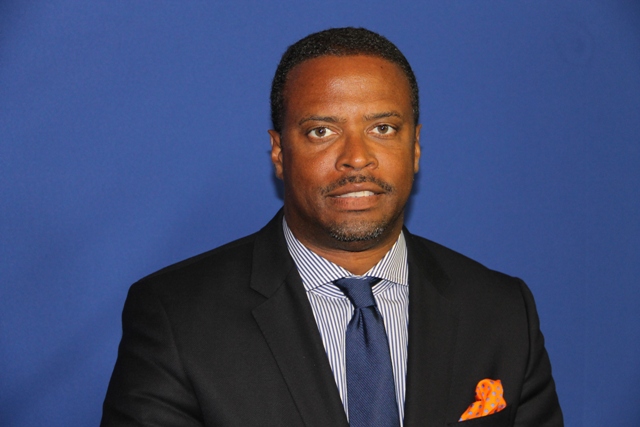 CHARLESTOWN NEVIS (May 28, 2014) — Minister of Health in the Nevis Island Administration (NIA) Hon. Mark Brantley, is on a two-day visit to the Republic of Guyana, as the head of a team from the Ministry of Health in Nevis, to evaluate the dialysis system being used in that country for the treatment of patients with renal failure and related renal problems.
In what is being dubbed a study tour, the Minister is accompanied by Medical Chief of Staff at the Alexandra Hospital Dr. John Essien, Matron at the Alexandra Hospital Nurse Aldris Dias and Health Planner in the Ministry of Health Mrs. Shelisa Martin Clarke.
During his delegation's visit, Minister Brantley will meet with the Minister of Health in Guyana, the Hon. Dr Bheri Ramsaran and his team, to explore avenues for cooperation in healthcare between Guyana and Nevis. Also expected to attend that meeting is Mr. Leslie Cadogan Permanent Secretary in the Ministry of Health in Guyana.
Minister Brantley and his team will also meet with the Chief Executive Officer of the Georgetown Public Hospital Corporation Mr M H Khan and the leadership team at the Republic of Guyana's main hospital.
On the agenda for discussion are a number of items, including avenues for training and partnership with the primary focus being on dialysis treatment and renal care. Already one Nevisian dialysis patient, Kenvin Claxton of Bath Village in Nevis, is being treated in Guyana at the Georgetown Public Hospital, where he is receiving lifesaving treatment for just over one year.
At the Georgetown Public Hospital, the delegation will tour the dialysis unit and meet with key personnel including the Director of Nursing, the head nurse of the dialysis unit, the resident Nephrologist and technicians who maintain the unit. Special attention will be paid to water treatment and the financing of the service.
The team will conclude its tour to the Republic of Guyana by meeting with Biomed Energy Enterprises (BEE), a private treatment and biomedical provider.
Minister Brantley will also hold a joint press conference with health officials from the Republic of Guyana to be aired on television nationwide.
Minister Brantley and his team return to Nevis on the 30th of May, 2014.