Nevis Island Assembly has new President; Parliamentarians also sworn in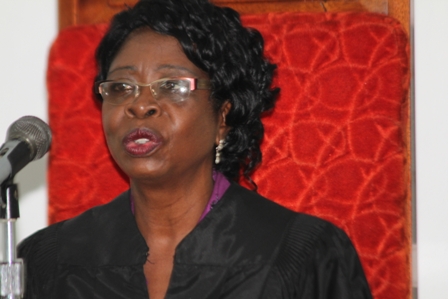 NIA-CHARLESTOWN NEVIS (September 12, 2011) — September 12, 2011 will be recorded in the annals of the Nevis Island Assembly at Hamilton House, as the day when new President Hon. Christine Springette was sworn in together with Parliamentarians in the second term Nevis Island Administration (NIA) led by Premier Hon. Joseph Parry. No one was represented or sworn in from the Opposition benches.
Mrs. Springette, who had in the past five years served the NIA as Special Advisor for Education in the Premier's Ministry, in response to her new appointment said she was honoured to serve in her new capacity and pledged to continue to raise the standard of the House set by her predecessors.
"I look forward to my service here that should be of a similar level of high standards, expecting good decorum in the House and making this House a place where democracy works…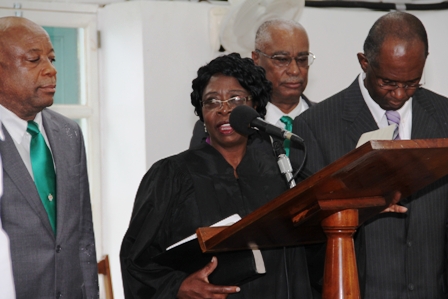 "I expect to conduct the affairs of this Honourable House in a fair and impartial manner, to serve to the best of my ability and when my time here would have ended, I would like to have been considered as somebody who has served well, has elevated the class, the decorum, the good behaviour that we expect from a progressive society. We must always remember that Nevis is the Queen of the Caribes and we cannot continue to claim that if our behaviour is less than what it is suppose to be," she said as she addressed the filled gallery.
The new President also used the opportunity to invite members of the public, in particular the youth, to attend future deliberations at the House, since in her view it would help to enrich their lives.
"I would like for all deliberations here to see the gallery with as many people as we see here today because there is a lot to be learnt. If young people are exposed to debates, decorum and being able to disagree and still be responsible and respectable to their opponent, we will be making a big effort to improving the life of the people of Nevis and ensuring the future is going to be bright for all of us.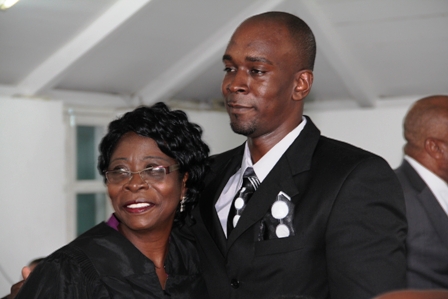 "I extend a general invitation to all the people of Nevis to improve themselves by coming to the deliberations in the House," she said.
Mrs. Springette also wished the new NIA continued good performance to ensure that future generations would look back at its legacy with pride.
In conclusion, she thanked the Premier who had nominated her to the new position and reiterated her intention to do her best, ensure that the decorum in the House would be of a high standard and that debate would be instructive to all, in particular, those who aspired to be like him and any government in office.