Nevis' Junior Health Minister Brandy-Williams acknowledges nurses for sustained contributions
NIA CHARLESTOWN NEVIS (May 09, 2018) —The following is a speech delivered by Hon. Hazel Brandy-Williams, Junior Minister of Health in the Nevis Island Administration (NIA) on May 09, 2018, to mark the observance of Nurses Week 2018 on Nevis.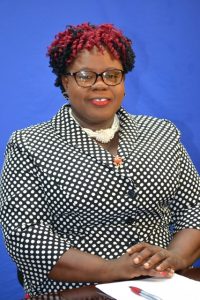 Nurses Week is observed every year from the 6th to12th of May to recognize the contributions that nurses make to society.
This week of activities also includes the celebration of the birthday of Florence Nightingale, who is recognized as the founder of the nursing profession which was established in the 1850's.
The theme for Nurses Week 2018 is: "Nurses, A Voice to Lead-Health is a Human Right." It recognizes the contributions that nurses have made and continue to make in relation to access to healthcare.
A rights-based approach to healthcare includes a variety of factors including those related to human resources, healthcare financing and patient-centred care.
For healthcare services to be adequately provided, human resource personnel in the right mix must be available.
At the core of this human resource team are nurses who work in all areas of the health sector including at the community and hospital levels.
Nurses are involved in education, immunization, family planning, labour and delivery, surgery, paediatric care, food handlers clinic, and the list goes on to infinity.
I am sure that every individual in our population can identify an interaction they have had at least once with a nurse.
The Ministry of Health, will continue to invest in all areas of nursing and do our part to promote the profession.
We are committed to the recruitment, retention and training of nursing professionals, both men and women, and have identified these strategies as some of our priorities as we work towards the completion of our Human Resource for Health Plan.
At present, five nurses are currently pursuing studies at the Clarence Fitzroy Bryant College. Three recently returned last month after completing studies in midwifery. Additionally, there are nurses currently pursuing studies at the Masters level in Taiwan.
In addition to adequate resources, the development of health infrastructure, and the provision of critical lifesaving equipment are important for a quality health system.
This system should be accessible to all in the population, and therefore a sustainable health financing strategy must be employed.
In St. Kitts and Nevis, I am happy to report that we are in the process of working towards the implementation of universal healthcare.
On the 22nd and 23rd of February this process was officially launched, and over the next several months public consultations and other activities will be held towards the development of this strategy.
The focus on accessibility to healthcare will not just be on the geographic location of health facilities, but also provisions that allow for needs of the most vulnerable including the disabled and the elderly.
Beyond investment in human resources and infrastructure, people centred healthcare should be the focus of a good health system.
Individuals should be actively involved in their care and treatment plans. This includes having adequate knowledge about their illness. They should also be involved in using self-management tools that can delay the progression of diseases such as diabetes and hypertension.
Nurses are key in ensuring that these and other activities are successfully implemented which would reduce hospital admissions and dependence on medication.
As we celebrate Nurses Week, I take the opportunity to applaud nurses for all the work that they continue to do in disease prevention, care and treatment.
They have assisted in keeping our country well and have contributed directly to the country's economic development.
Activities in Nevis from the 7th -13th of May include an educational symposium on the 9th,
a visit to retired nurses, a karaoke night at Old House Cafe on the 10th, a church service at the Maddens Seventh Day Adventist Church on the 12th and the week culminates with a sunset cruise along the coastline.
I take this opportunity to thank the nurses for their continued hard work and dedication to the nursing profession.
Thank you.