Nevis Library Service: Building a Culture of Literacy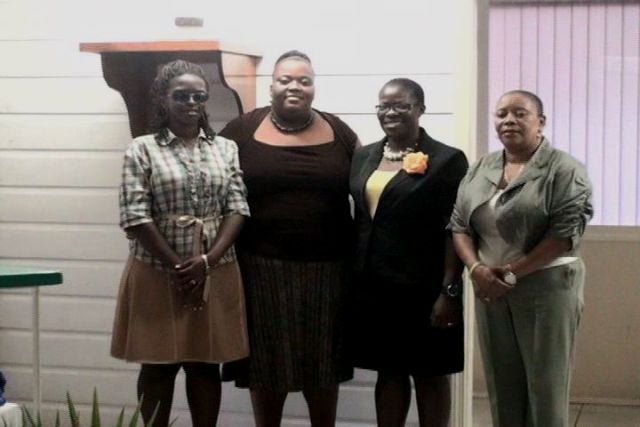 NIA-CHARLESTOWN, NEVIS (October 28TH, 2011) — The Nevis Library Service is "engaged in building a culture of literacy" through its school and community libraries.
The statement, made recently by Director of Libraries on Nevis, Mrs. Sonita Daniel, resulted from the initiation of the "Reading starts with us" and "Reading is our thing" programmes, the "Family Book Feud" and "the various ongoing activities in school libraries" on Nevis.
Speaking specifically of tomorrow's [Oct. 29] "Blanket Night" which will take place at the Elquemedo T. Willett Park, Mrs. Daniel said the goal is to "advance family reading awareness and family reading practices."
"We believe that early experiences with books help to build a strong foundation of learning so, we at the Nevis Library Service find creative ways to make reading an exciting and memorable part of everyday life: whether at home or in the community," she explained.
Mrs. Daniel, who, on Independence Day 2011 [Sept. 19] received an award for sterling contribution to Education and Library Services, also said there was need "to make reading an important value among families on Nevis."
"We want our children to grow up in literacy-rich environments and homes where reading forms part of the daily family agenda, homes where books are accessible and enjoyed," she explained, adding that "when parents and children discover the joy of books together in the home, the love of reading becomes a shared value."
Director Daniel's remarks also expounded on the budding partnership that had been established between the Department of Education and United States-based Nevisian organisations such as the Hearts and Hands of Nevis Incorporated and the Nevis Association of South Florida.
In speaking of the associations' most recent donations, Mrs. Daniel said it was imperative for her to recognise and show appreciation to the Project Officer for School Libraries on Nevis and her team.
"I want to congratulate and commend Mrs. Marva Roberts for her initiative in approaching these two organisations. She's spearheading this blanket night along with the other teacher librarians and I want to commend them for their hard work and we look forward to the success of this big event," Mrs. Daniel said.
The long serving civil servant also made an appeal to local, regional and international bodies to follow the example of the US-based organisations. This, she said, "would ultimately benefit the entire Nevisian community."
"The Nevis Library Service cannot do it alone, neither can our schools. We are therefore happy to forge successful partnerships with Nevisian organisations, whether local or in the Diaspora, funding agencies or our own local private sector and NGOs.
"I therefore want to place on record our sincere thanks and appreciation to the Hearts and Hands for Nevis and the Nevis Association of South Florida for their generous donations to our activity and their contribution in enhancing our cause for family reading awareness," Mrs. Daniel said.
As part of the much anticipated Blanket Night event, "participating families would each get a blanket and a teddy bear to take home to continue reading."