Nevis Mango and Food Festival – a good way to promote things Nevisian, says Hotelier "Luppi"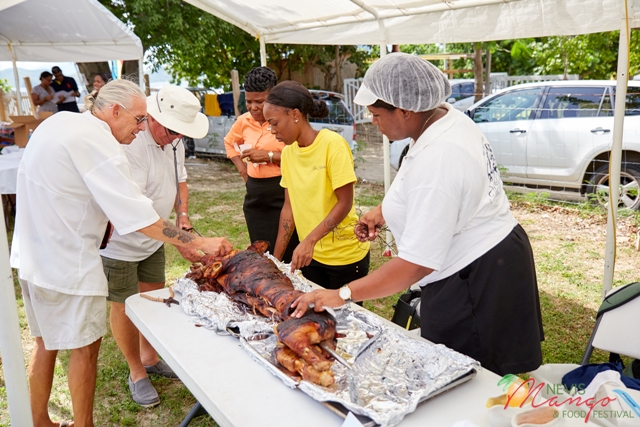 NIA CHARLESTOWN NEVIS (July 13, 2017) — Richard "Luppi" Lupinacci, owner of The Hermitage Plantation Inn in Gingerland, believes the Nevis Mango and Food Festival is a perfect way to promote things Nevisian.
The hotelier, who with his family operates the establishment, has found an innovative way to intertwine the hotel's popular whole roast mango-infused-pig with the agriculture industry on Nevis. Under his leadership, The Hermitage presented the culinary delight at the Nevis Tourism Authority's (NTA) Nevisian Chef Mango Feast at Oualie Beach on July 09, 2017.
"The Nevis Mango Festival is a wonderful way to showcase things that are grown and done in Nevis. Things that visitors who come from overseas can't find anywhere else," he said.
Speaking of his whole roasted local pig, Lupinacci said it lasted under an hour at the feast. However, it is a staple every Wednesday night at The Hermitage and is available for all who missed out on the culinary favourite.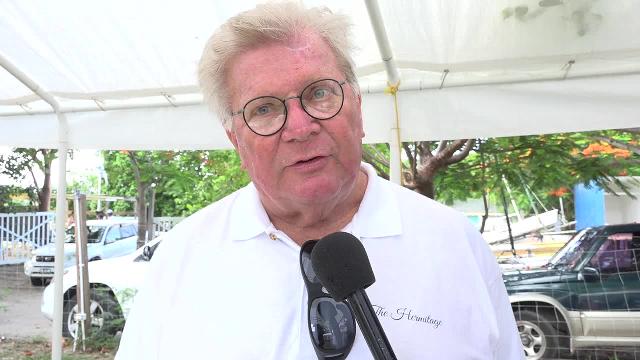 "What a great combination – mango and fresh pork… The best pigs that we have at the Hermitage are the ones that have been eating all summer from the mangoes…
"Every Wednesday night we roast a whole pig. I call it the 'weekly burnt offering' and we do it in the traditional old island style because I have been living here for more than 50 years now," he said.
Lupinacci, who is originally from the United States of America, says his relation with pig farming stems from his formative years there. He continues to raise pigs in Nevis for use in the hotel's Wednesday night pork roast. When the stock runs out, local pigs from the Department of Agriculture's Abattoir are utilised.
During the peak mango season, the pigs at Hermitage feed on bruised mangoes which fall from trees on the property.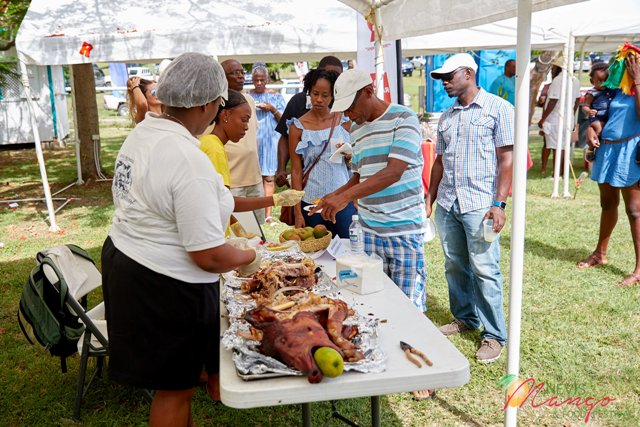 He contends that pigs grown locally taste different from those grown in Europe or North America. The Hotelier referred to pigs as being great animals and the best converters of garbage to protein in the world.
The Nevisian Chef Mango Feast was the final event of the NTA's 4th annual Nevis Mango and Food Festival. The event is tailored to provide an opportunity for local chefs to showcase their mango inspired dishes alongside those of international celebrity chefs.