Royal birthday card finally arrives for Nevisian Centenarian Smithen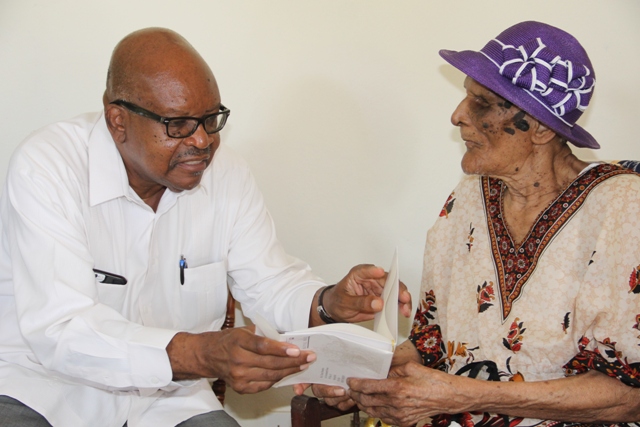 NIA CHARLESTOWN NEVIS (JULY 14, 2017) – Her Majesty Queen Elizabeth II's birthday greeting finally arrived for Nevisian centenarian Eileen Swanston Smithen of Zion Village, Gingerland. Governor General His Excellency Sir Tapley Seaton, hand delivered the royal greeting card to her at her home on July 13, 2017. Her birthday was celebrated on June 20, 2017, with a thanksgiving service.
In brief remarks the Governor General acknowledged the "special lady of the moment". He congratulated her on her milestone and contribution to the development of St. Kitts and Nevis even though she had lost her sight in her teenage years.
"Yours has been a rich life. Rich in terms of being able to persevere and to overcome obstacles. You've overcome so many disabilities in terms of not being able to see but being able to learn braille and being able to teach others braille and so, certainly, we want to commend you and congratulate you for the contribution that you have made," he said.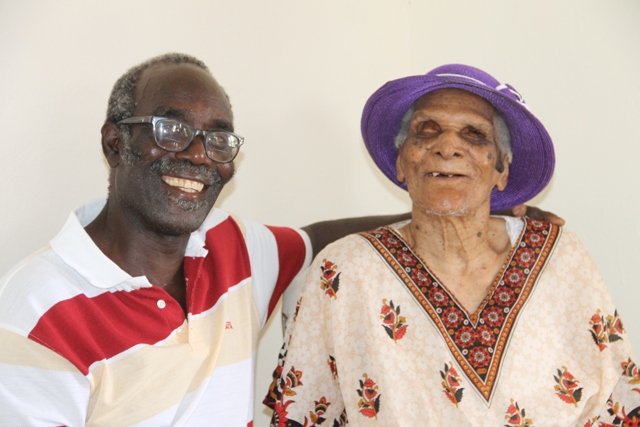 Sir Tapley Seaton who is the representative of Her Majesty the Queen and the Head of State in the Federation, said he was pleased to celebrate with the centenarian on behalf of Her Majesty and the people of St. Kitts and Nevis.
In presenting her with the memento he read its message and expressed hope that she would treasure it.
He said while he appreciated all the Federation's other centenarians for their invaluable contribution, her life exudes hope.
"You, your life, in terms of your perseverance, your ability to survive and to be strong, gives us all hope and gives us something to emulate and certainly, I want to say what a pleasure it is for me to be here and to join with your friends and your family in continuing to celebrate your special achievement," he said.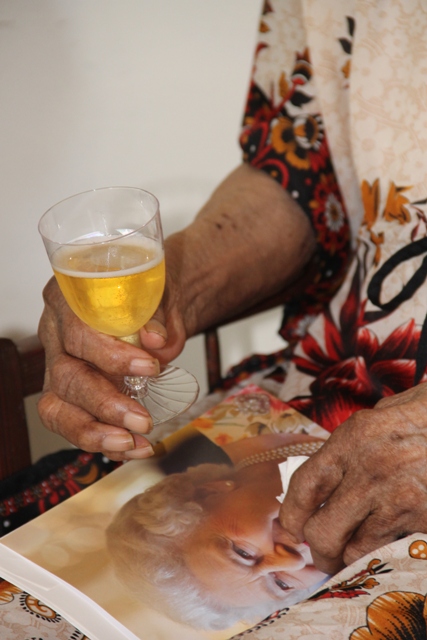 The Governor General also presented Ms. Smithen with a gift basket and urged her to enjoy the contents.
In response, Smithen thanked God for creating her. She singled out Pastor Theophilus Kelly who she regards as her son, for taking care of her.
"I thank Brother Theophilus Kelly a million thousand times for taking such good care of me. It is more than I can talk about. He comes at mornings… He comes at evenings. He wants to know I eat. May God richly bless Theophilus Kelly in his going out and his coming in," she said.
The Centenarian also thanked all those who continue to contribute to her well-being and singled out Hon. Hazel Brandy Williams, Junior Minister in the Ministry of Social Development who she regards as being a part of her family.
Other remarks came from Hon. Hazel Brandy Williams, Mr. Wakely Daniel, Permanent Secretary in the Premier's Ministry and Pastor Kelly.
Among those present were Ms. Michelle Liburd, Assistant Secretary in the Ministry of Social Development and Garcia Hendrickson, Coordinator of the Senior Citizens Division in the Department of Social Services who chaired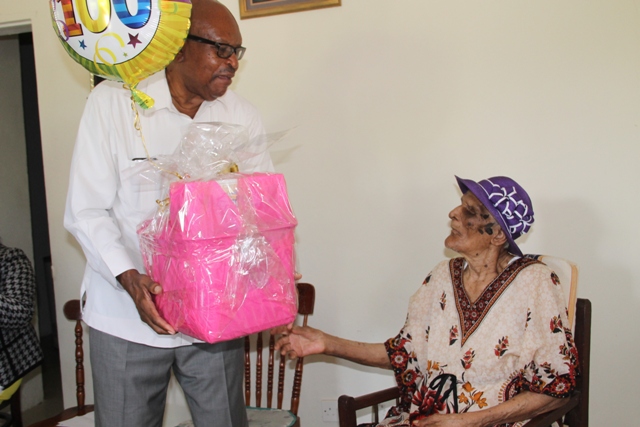 the event.