Nevis Min. of Health and Gender Affairs offers swimming classes in bid to promote healthy lives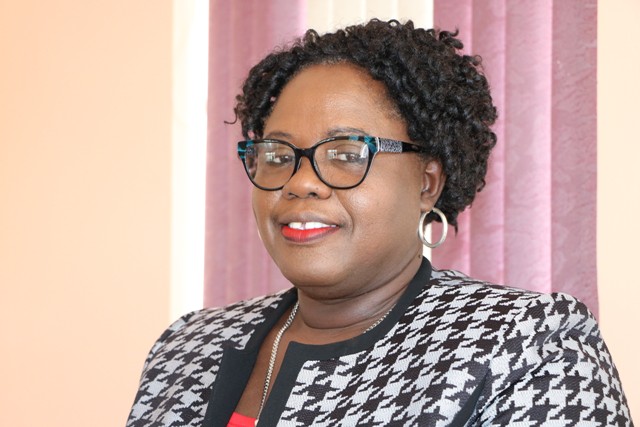 NIA CHARLESTOWN NEVIS (June 18, 2019) — In its continued pursuit to encourage persons to live healthy, the Ministry of Health and Gender Affairs on Nevis will be holding the second in a series of swimming lessons free of cost for women who are 17 years and older.
Hon. Hazel Brandy-Williams, Junior Minister of Health made the announcement on June 18, 2019 at her office in Charlestown.
"We are about to start next weekend on June 29 and it will run over a three-month period. We are grateful to the persons from the Defence Force/Coast Guard who will be facilitating the class for this very important initiative.
"Persons who are interested 17 years and older, you are asked to register at the Gender Affairs Department on Government Road. Registration is now open and you can pick up a form at the Ministry of Health and Gender Affairs at the old Administration building or at the Gender Department on Government Road," she said.
The junior health minister noted that the department is hoping to attract committed participants.
"We are hoping to attract serious persons because we want to give as many persons a chance as possible. So if you are serious pick up your registration form, and return it as soon as possible because the first traunch will only have space for 25 women," she said.
The swimming clinics will be held on Saturday mornings from 9 a.m. to 12 midday and on Sundays from 2 p.m. to 5 p.m. to allow participants to select the time frame most convenient for them to attend.
Mrs. Brandy-Williams noted that at the end of the three-month programme, participants will be able to swim and at the same time benefit from an important form of exercise.
The swimming programme is one of a number of ongoing initiatives by the Ministry of Health and Gender Affairs designed to promote healthy living, exercising and overall wellness.
An exercise programme conducted two days per week by Mr. Masefield Nisbett at the at the Gender Affairs Department conference room. Also, the ministry is involved in a collaboration with Mr. David Walwyn of the F.I.T. Wellness Center. In addition to the National Weight Loss initiative. There is also a Tae Kwon Do programme held at the department's conference room.
Mrs Brandy-Williams urged women to get involved in the programmes.
"Women, get out there. Be empowered. You can lose some weight. You can get healthier. You can get stronger and most importantly you can lead a more healthy life," she said.