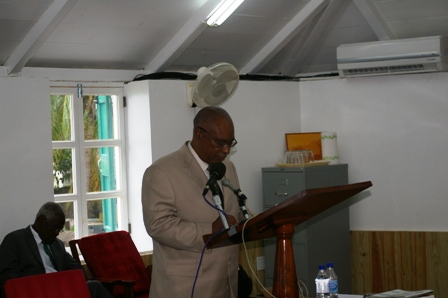 Hon. Joseph Parry presenting 2011 Budget
(CHARLESTOWN, NEVIS—Tuesday, December 7th, 2010) Nevis Premier and Minister of Finance, the Hon. Joseph Parry has revealed a total planned expenditure for the fiscal year 2011, set for $178.34 million.
At the Nevis Island Assembly Chambers on Tuesday, Premier Parry informed the gallery that the 2011 budget increase of 9.04 percent over the 2010 projections is due in a great measure to increase on the Capital Expenditure budget. The current expenditure increased by 6.47 percent to $133.97 million. While the capital expenditure increased by 17.63 percent to $44.37 million.
According to the budget address total revenue and grants for 2011 are projected at $136.43 million. The percentage increase over the Estimates for 2010 is calculated at 34.39 percent.
"Significant improvements are expected in Tax Revenues collected at the Customs and Inland Revenue Departments especially as a result of the reopening of the Four Seasons Hotel. All classifications of taxes are anticipated to witness improvements," said Mr. Parry.
The Premier said Corporate Income tax from businesses operating in Nevis will increase the collection from taxes on income and profits by about $10 million. He went on to say that the implementation of the Value Added Tax (VAT) in November of this year is also expected to contribute to the performance of Taxes on Domestic goods and Services and Taxes on International Trade and Transaction.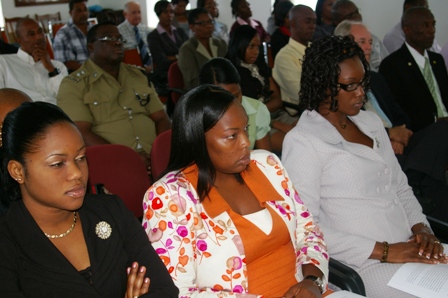 Ladies from the Ministry of Finance Department
In relation to budgetary allotments for the current expenditure fixed to the four autonomous Department of Deputy Governor General, Legislature, Audit and Legal Department totals $2.29 million.
The Ministry of Finance current expenditure is budgeted at $63.12 million, an increase of 5.72 percent over 2010. "The increase of the Ministry of Finance budget is due mainly to the implementation of the VAT division," said Premier Parry.
The Ministry of Communications and Works is allocated $27.34 million. The Ministry of Agriculture is allocated $4.95 million, an increase of 5.23 percent compared to 2010.
The Ministry of Health current expenditure is $14.90 million, an increase of 12.00 percent due to the recruitment of additional medical personnel and expansion of essential services. Ministry of Social Developments is allocated $4.85 million. The Ministry of Trade, Industry and Consumer Affairs budget is set at $7.13 million. Human Resources showed an increase of 5.08 percent.
The Premier noted that areas in his portfolio of both the Ministries of Tourism and Education had marginal declines in current expenditure of 3.4 percent and 0.68 percent.
"We were forced to curtail important capital projects in 2010 due to severe resources limitation. However, we are very cognizant of the well thought out government capital projects play in any developing economy and thus my government is intent on continuing this work in the 2011 period, but focusing on critical productive, growth inducing capital investments," said the Premier.