Nevis Premier regards Athlete Adrian Williams as asset to island's tourism; applauds success at Commonwealth Youth Games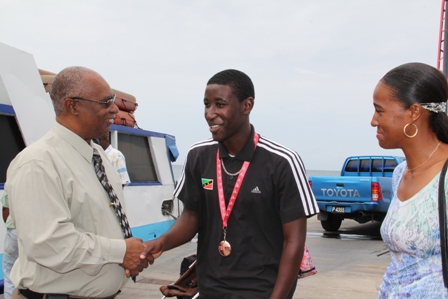 NIA-CHARLESTOWN NEVIS (September 14, 2011) — Premier of Nevis Hon. Joseph Parry was on hand at the Charlestown Pier on Wednesday, to welcome local athlete Mr. Adrian Williams following his bronze medal win at the Commonwealth Games held in the Isle Of Man.
In a brief but significant ceremony Mr. Parry congratulated the young athlete on his achievement, told him he was an asset to his island an urged him to continue to work hard.
"Let me publicly congratulate you again for a great job done. You have served your country well and believe me, you are a great asset to tourism. We are going to make sure that tourism makes use of you.
"Keep working, keep studying hard, keep doing everything hard and that is why you will be outstanding. I want to hear, I don't know which Olympics, but I want to hear Champion of the World in the javelin Adrian Williams," he said.
The Premier told the Young Athlete, that he had joined the long tradition of good sportsmen on the island of Nevis, especially in the field of cricket but gave him a word of advice with regard to his future in sports.
"I am pleased to also hear that young Adrian is also a pace bowler for the Under 19 Nevis Cricket team and I suppose he should be on the Leeward Islands team as well. I don't know what is going to happen because he is going to have to make a choice sometime soon between pace bowling and athletics.
"Mickey Holding had to make that choice and he went the way of cricket. Bolt made that choice and he went the way of the fastest man ever in the world. So Adrian you have to begin to think long and hard where you want to go," he said.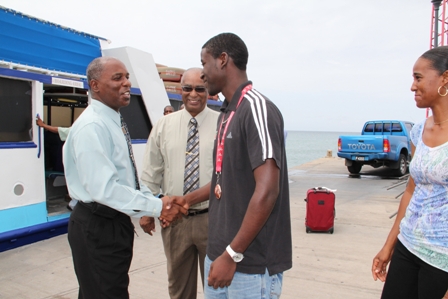 Notwithstanding, Mr. Parry told him that whichever way he chose to go, it would take hard work, lots of training and sacrifice.
"I know that your mother and the gentleman who has worked with you and your coaches will help to keep you on track and that in the end you are going to be an outstanding star in whichever field that you choose," he said.
Meantime, Mr. Parry said he wanted Nevisians to understand, that his presence in the welcoming party for Adrian was not simply to encourage and praise the young Athlete but to show the importance of excelling.
"It is an indication of how important it is for our people to excel and how important it is for us to accept and praise those who are outstanding and Adrian has been outstanding. This is not CARIFTA anymore, this is not the Caribbean anymore, this is now the Commonwealth and the next thing we are going to hear about is the whole world.
"To be number three in the Commonwealth Youth [Games] is outstanding for a little island like Nevis and we need to get that message out to our people that again and again our people shine and stand out at world level even though we are a small island of 11,000 persons," he said.
Permanent Secretary in the Ministry of Sports in Nevis Mr. Alsted Pemberton was also on hand to welcome Adrian. In brief congratulatory remarks he said Mr. Williams had accomplished a feat that no one in the Federation had been able to do so far with his bronze medal win in field events.
Mr. Pemberton described the young athlete as a consistent performer at the local and regional levels and had now graduated to the international level.
"Adrian has performed at the CARIFTA Games and he brought us a gold medal on the regional level and now he has graduated to the international level where he has brought home the bronze medal and we in Nevis are very proud of him and we want to congratulate him publicly.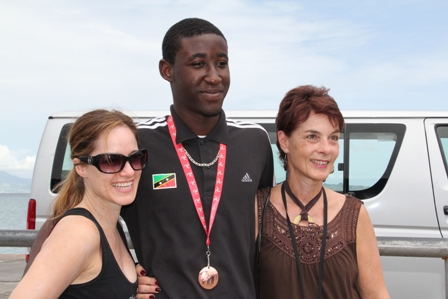 "We want also to congratulate his parents, his coaches and all those persons who would have a hand in ensuring that Adrian continues to develop on the track that he is developing," he said.
Meantime, two visitors to Nevis, a mother and daughter from the United States of America who arrived on the same ferry as Adrian, were excited to have their photographs taken with the young local celebrity. In brief comments they expressed their feelings to the Department of Information.
"Hi my name is Chantal I am from Chicago and we are very excited about the athletes from Nevis and St. Kitts. We were on a tour downtown yesterday in St. Kitts and a saw a few of the athletes and it was really exciting because it is really a big accomplishment for them and we are really excited for their medals and everything that has been going on for them. So cheers, congratulations!" she said.
The other added:
"My name is Maria I am Chantal's mother and we are having a great time and hope to love Nevis today. It very exciting being here and getting our picture taken with the athlete," she said.