Young Nevisian Track Star urges youths to try sports; stay away from bad business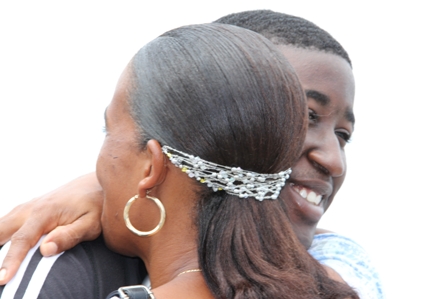 NIA-CHARLESTOWN NEVIS (September 15, 2011) —
Young Nevisian athlete Mr. Adrian Williams who competed at the Commonwealth Youth Games in the Isle of Man recently and won a bronze medal, described his experience as magnificent and urged his peers to try their hand at sports.
Mr. Williams who was a member of the team which represented St. Kitts and Nevis made the call on Wednesday while he spoke to the Department of Information on the Charlestown Pier, moments after his return home on Monday.

"First I would like to say thanks to everyone who has been encouraging me especially Mr. Tuckett. He has been with me all throughout the summer training me and I came with the bronze. So I would like to say thank you to him also to my mother and Mr. Daniel
It has been magnificent, it has been a very nice experience I just have to go out there and do my best. I would like to tell other young people to try out the sports, keep out of bad business and just go out there and do your best," he said.
His mother, Ms. Glennett Williams who was also present could not contain her happiness. She said she was proud of her son's achievements and urged other mothers to support their children in their endeavours.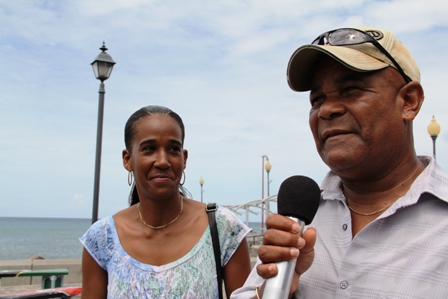 "I am very proud of him for his achievements and I am very proud to be his mom. I think this should encourage him to try and even go further in his athletics and I just wish him all the best that he could go further and do his best because I know he always does his best.
"As a mother you have to be with your children and support them whatever way you can. Try to be with them when they accomplish something, try to be there to support them in every way," she said.
Meantime, Adrian's first coach Mr. Winston Smith said he had seen promise in the young athlete when he was him racing when he was 11 years old at the St. James Primary School. He said when he expressed interest in working with Adrian several persons enquired why because he had placed 4th in the race.
"They said why you want to work with him he only came fourth I said because you haven't seen what I see. I saw the strides, I saw how cool he was and I have been around him ever since," he said.
According to Mr. Smith, he has assisted Adrian with his diet, and both physical and mental form and spoke gloriously of his temperament.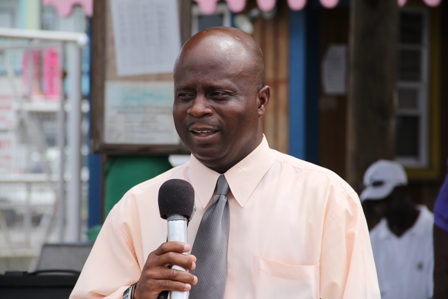 "I help him in every way I help him with his diet, try to get him to eat correctly. I take him to the gym and get him to do light weights repetitions, constantly talk to him to guide him in the right way and I have never met a more beautiful young man. I have got sons of my own and sometimes I think I am talking to my own son.
"This boy is so laid back nothing fazes him nothing. He is never nervous about anything; he just takes it in strides. He is not big headed he is just a very, very nice young man and I tell you, you have not seen the last of him yet, he is going to be around," he said.
In response to a question regarding Adrian as a role model Mr. Smith noted that the young athlete was more than a role model to his peers though he was not yet at the stage where he could teach anyone
"All other youngsters can say to themselves, if Adrian can do it so can I instead of getting involved in nonsense like gangs," he said.
Mr. Smith also used the opportunity to urge persons in the private sector to assist Adrian in his continued pursuit for excellence in sports since his mother was a single parent.
"Let me take this opportunity to say, I wish that a company like Best Buy or any of those supermarkets would put something aside every month and say this is for Adrian William's development because it is very hard on the mother.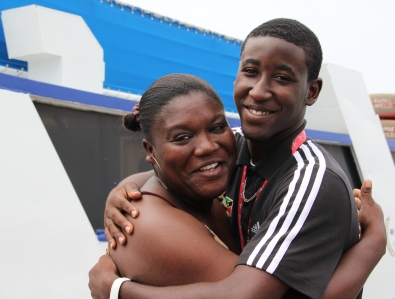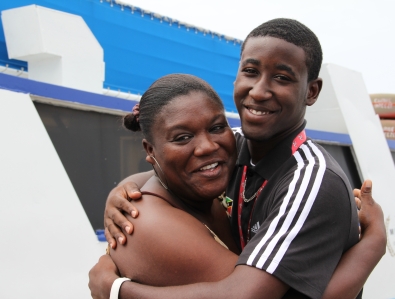 "She is a single mother and this fella can eat!" he smiled, adding, "That's why he is probably so strong. I would like to take the opportunity to tell them to help. We need help we have a super athlete here the mother alone can't do it."
Another person who has been instrumental in Adrian's development was Mr. Wakely Daniel a member of the Nevis Amature Athletic Association and leader of the Gladiators Track Club of which Adrian is a member. He too was on hand to welcome the young athlete and praised his achievements to date.
"What he did was a tremendous feat…I must also state that to my mind, Adrian for the past two years has defined himself as the number one athlete in all sport in Nevis presently. There can be no question in my mind.
"This year he has defined himself not only as the number one athlete in Nevis but the number one junior athlete in the entire Federation with his medal from CARIFTA, the record that is held at CARIFTA now, a bronze medal at the Commonwealth Games, clearly Adrian is the quintessential athlete for Nevis and St. Kitts at this present moment," he said.
He also commended Adrian's support including Ms. Williams, and coaches Mr. Denzil Tuckett, two assistant coaches Mr. Kevon Charles and Mr. Collin Walters and to the Club's official chaperon Ms. Rovina Jeffers.