Nevis Premier says NIA performing steady so far for 2016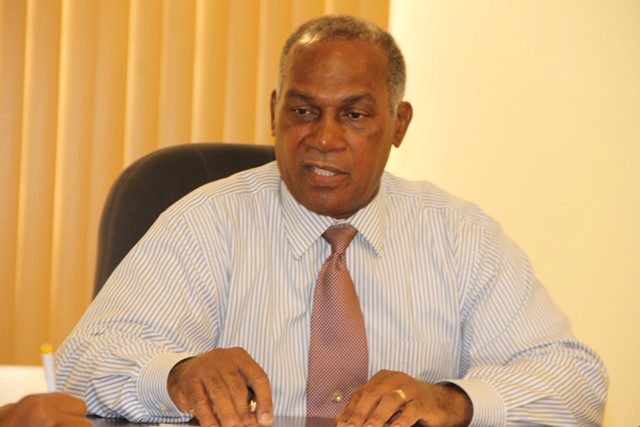 NIA CHARLESTOWN NEVIS (September 14, 2016) — Premier of Nevis and Minister of Finance Hon. Vance Amory says the Nevis Island Administration (NIA) is performing creditably so far for 2016.
He made the disclosure when he made remarks at a meeting with the Nevis Division of the St. Kitts and Nevis Chamber of Industry and Commerce on September 13, 2016. The session was held at the Premier's Ministry at Pinney's Estate.
"In terms of the administration, the government of Nevis, I think that we have in the course of this year been able to hold things quite steady," he said.
Mr. Amory referred to the removal of value added tax (VAT) from the cost of food items and medication which he said had left the administration, for example in 2014, with a reduction in revenue collected but there was a brighter side.
"That has left reductions, if we were to look at say 2014 in respect of the VAT collection, we are down, in the case of Nevis by about $1.5 million but I do not think that could really be detrimental because, I think, the spin off from the additional expenditure, would have been significantly more important for the economy and for the people," he said.
Mr. Amory expressed the view that the most important thing, was to ensure that the people of Nevis could live on their wages and enjoy a more comfortable life, in the absence of an increase in salaries and the addition of 17 percent VAT.
Meantime, the Premier assured that there will not be a return of VAT on food, medicine and the other VAT-free items.
"We clearly will not see any return to VAT on food and so on…The collection of revenue by government is not always the main thing. Our purpose is to ensure that the people have a better standard of life and I think we are seeing people a bit more comfortable.
"I believe from the business standpoint, I think you see more expenditure as well and that can only be good for the country and for the expenditure by our people," he said.