Nevis Premier welcomes new Deputy Governor General for Nevis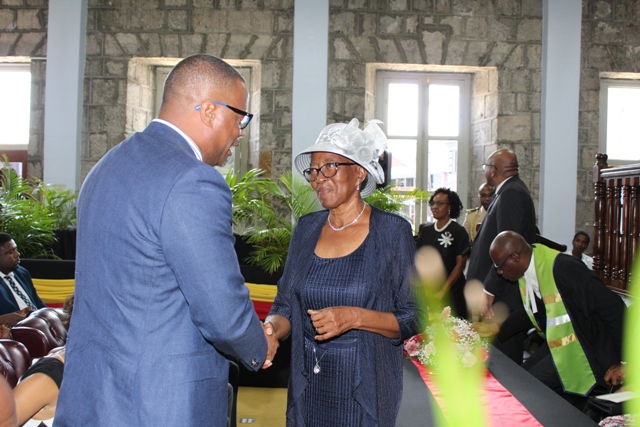 NIA CHARLESTOWN NEVIS (August 31, 2018) — Hon. Mark Brantley, Premier of Nevis described the swearing in of new female Deputy Governor General for Nevis, Her Honour Hyleta Liburd, as a historic moment for the people of Nevis and the wider nation of St. Kitts and Nevis.
Mr. Brantley shared that view while delivering congratulatory remarks at the swearing in ceremony for Her Honour Hyleta Liburd, moments after she was sworn in as the new Deputy Governor General for Nevis, by Resident High Court Judge in St. Kitts Hon. Justin Trevor Ward QC at the High Court in Nevis on August 31, 2018.  The appointment takes effect on September 01, 2018.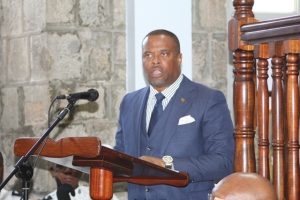 "I am delighted and honoured to congratulate our newly appointed Deputy Governor General, Her Honour Mrs. Hyleta Liburd. She is one of Nevis' most remarkable and accomplished citizens and her appointment to the high office of Deputy Governor General is wonderful and exciting news for the island of Nevis.
"We are all familiar with much of Her Honour's life story, a story that testifies to her love, hard work, discipline and tremendous success," he said.
The Premier indicated his confident that the new DGG will fulfil her role with grace, dignity, courage and compassion and bring much knowledge to that office.
"Her Honour brings to the office, a rare depth of knowledge in public policy and the working of government. Above all, she represents the best of what it means to be a Nevisian – dedicated service, respected leadership and a commitment to integrity.
"She has demonstrated in her own career an unswerving commitment to the land of her birth, to the people of Nevis and to the development of this island…She has served Nevis well in the past and will continue to do so with great humility in the years ahead," he said.
Mr. Brantley thanked Mrs. Liburd on behalf of the government and people of Nevis for accepting to serve again.
He wished her well and God's blessings as takes up her new appointment and carry out her duties.
"I also wish you good health and strength which will be needed to perform your role and duties.  May your tenure be characterized by love, compassion, respect and dignity and may Jehovah God bless you and bless and prosper your efforts on behalf of the people of Nevis," he said.
Mr. Brantley thanked Her Honour Marjorie Morton, Acting Deputy Governor General, for her service and for the dignity, splendour and warmth which she brought to the office during her tenure. She demits office on August 31, 2018.