Nevis Premier welcomes new EOC building from US Government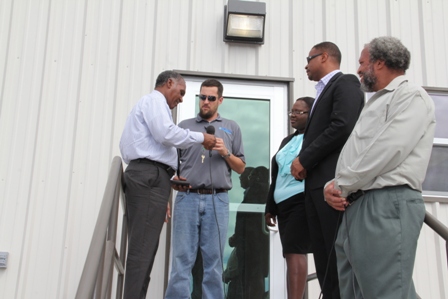 NIA CHARLESTOWN NEVIS (DECEMBER 6, 2013) – Premier of Nevis and Minister responsible for Disaster Management Hon. Vance Amory and his Cabinet, were treated to a guided tour of the newly constructed Emergency Operating Centre (EOC) at Long Point on December 4, 2013. During the visit, Naval Facilities Engineering Command (NAFAC) representative Mr. Tim Ryczek officially handed the building's occupancy keys to the Premier.
At the brief handing over ceremony, Mr. Amory welcomed the new building and spoke to the importance of the facility to Nevis.
"I think this is a wonderful contribution the government has made and I'm sure that Mr. Blackette and his team are very happy to have it and I hope we do not have the need to use it for emergencies…It's here as a preparatory measure because we need to be prepared in case something happens.
"We know safety is critical, security is critical and this contribution is part of that plan which we have to make Nevis a secure and safe place. If we do get struck by some disaster, some event, we will be in a better position to deal with it and recover from it," he said.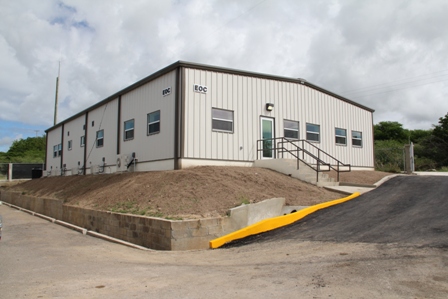 Minister Amory thanked the United States of America through the US South Command Military Command (Southcom) NAFAC for their generous donation of the Emergency Operations Centre to the Island of Nevis.
"I really want to thank you Tim and through you, your US government through Southcom because I think they have been good partners with Nevis, St. Kitts and Nevis to make sure that we have necessary supplies and equipment in times of disaster or to prepare us to weather any storm which might come our way," he said.
The EOC will better able the Nevis Disaster Management to prepare in the event of disasters and emergency situations. It cost US$1.7 million to construct and consists of three offices, a clerical area, two bathrooms, male and female with showers, one Information Technology room, two conference rooms, one VIP Conference room that will be designated for Cabinet's use.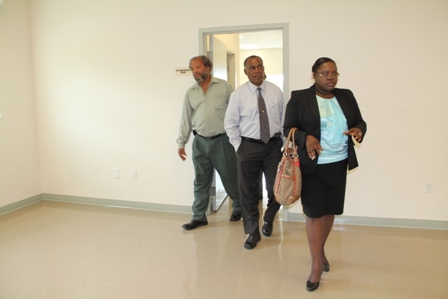 The Facility will also serve as a multipurpose building and a conference room/meeting room which would accommodate 60-80 persons. It is also outfitted with three breakout rooms, a dining room which is attached to a kitchen and housekeeping. Each room has sensors which automatically turn on the lights and turn them off 15 minutes after leaving the room.
It also comes with a 75 Kilo, KVA generator, a 200 gallon fuel tank and a 1000 gallon tank. There is also an automatic transfer switch which automatically transfers electricity in case there is a blackout.
Also present at the ceremony were Deputy Premier, Hon. Mark Brantley, Junior Minster of Social Development Hon. Hazel Brandy-Williams, Cabinet Secretary, Mr. Stedmond Tross, Assistant Secretary in the Premier's Ministry Mr. Wakely Daniel and Director for the Nevis Disaster Management Department Mr. Lester Blackette. They were guided on the tour by NAVFAC representative Mr. Tim Ryczek and Director of Construction at Foresight Construction Group Mr. Stan Byers and Superintendent Mr. Javier Rincon.